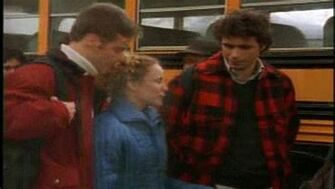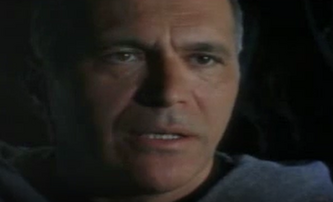 "A New Life" is an episode of The Outer Limits 1995 television show. It first aired on March 30, 2001, during the seventh and final season.
Contents
1 Opening narration
2 Plot
3 Closing narration
4 Cast
Opening narration
"Religious devotion can lead people away from temptation and evil, but is the path as clear if that devotion is blind?"
Plot
A young man named Daniel has grown tired of the rat race and decides to embrace a more spiritual and simple life. With his girlfriend Beth and best friend Thomas, he joins an order led by a seemingly benevolent preacher called "Father", who leads them to a secluded village away from the temptations of the outside world.
After the birth of Daniel and Beth's son, William, whom Father briefly takes away and then returns with a mysterious mark on his neck, Thomas begins to suspect something strange is going on. He secretly follows Father into the forest and to his horror sees him transform into a hideous alien before vanishing into a flash of light. Daniel attempts to flee with Beth and their son only for them to encounter an invisible barrier. They then encounter Jacob, a former member of the village who had previously run away to try to return to civilization. From him they learn that the area is completely closed off from the rest of the world by an invisible wall. Jacob himself has been hiding in a cave for nearly two years and foraging for food. They resolve to return to the village the following morning and tell everyone the truth.
That night however Father finds them due to the tracking device he had implanted in William. He kills Jacob and injures Beth, leaving her brain damaged. Daniel is blamed for what happened and the village prepares to burn him at the stake. Thomas decides to help Daniel after he realizes that neither of them actually remembers coming to the village, just the bus ride away from civilization. Thomas follows the trail leading out of the village, only to discover that it simply disappears a few miles away.
As things escalate, Daniel has a public fight with Father and mortally wounds him, only for Father to seemingly miraculously heal himself. Daniel manages to transport himself away using the same device that he saw Father use earlier. He arrives in a strange chamber where several copies of Father reveal to him that the entire village and area around it is inside a massive spaceship and traveling through space. The village was designed by alien merchants who intend to breed them into compliant slaves. Just grabbing humans from Earth and attempting to enslave them wouldn't work, as humans are naturally rebellious. So instead they make servitude desirable under the cover of religion whose motto is "A new life, through faith and service.". The trip to the aliens' destination will take five hundred years and the humans alive at that point will worship their alien overseers and serve them gladly, never knowing that they were ever anything other than slaves. Daniel is killed and Father then has the villagers burn Thomas at the stake to preserve the secret.
Closing narration
"When you blindly give up your free will to a higher authority, be sure you are not also giving up control of your ultimate destiny."
Cast
Brad Rowe ... Daniel Jeremy Sisto ... Tom Michelle Beaudoin ... Beth Nick Mancuso ... Father Holly Ferguson ... Heather Michael Eklund ... Jacob Jeremy Van der Driesen ... Polk
Community content is available under
CC-BY-SA
unless otherwise noted.