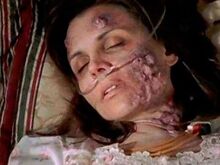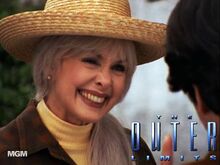 Dr. Noah Phillips (Maurice Godin) is in development of the "Cellular Regressor," a machine designed to rejuvenate an individual's cells and restore youth upon its subject. The machine seems to generate a similar effect to that enjoyed by the mutant woman in the episode "Last Supper".
In the midst of creating the machine, his wife, Meredith (Lisa Maris), goes into a coma from her cancer. Although the machine hadn't been properly tested, he attempts to restore Meredith's health by using the Cellular Regressor to reverse the effects of age and cancer on her cells. Meredith awakens, completely oblivious to the treatment, and asks Noah if she had overslept. Noah rejoices, embraces Meredith, and tells her that he loves her. His celebration, however, is short-lived as the cancer returns a few minutes later and kills Meredith instantly. Disgusted by his actions, Noah's superiors cut off Noah's funding and terminate him from his job. Meredith's family decides not to press charges after some legal battle with Noah. Noah, devastated by the loss of Meredith, moves out to a small town and meets the 65-year-old Barbara (Barbara Rush), who is very friendly in welcoming him to the neighborhood. Unfortunately, her husband, Greg Matheson (Harve Presnell), is not the welcoming type and views Noah with suspicion, thinking that he will move in on his wife, despite being 30 years younger than her. Greg is abusive and beats Barbara routinely.
All the while, Noah has continued to test the Cellular Regressor and, inspired by Barbara's words that the world always maintains a "balance of nature," Noah discovers that he can restore an elderly frog's youth only if he allows a young frog to grow old in the process. Noah's love for Barbara deepens while Greg becomes more jealous and, on one night, Noah finds Barbara beaten within an inch of her life. He realizes that she is about to die, and he does not have time to take her to the hospital. Instead, he decides to use the Cellular Regressor to restore her youth — and lose his in the process. She regresses back to a young woman (Fiona Loewi), but loses her memory, believing it to be 1957. The now elderly Noah convinces her what has happened when Greg bursts in wielding a gun and forces Noah to transfer his remaining life force to him. He forces Noah into the Machine, but sits in the wrong seat, and the transfer restores Noah's youth and kills Greg. Noah awakens with no memory of Barbara, believing it to be just after the death of his wife. She begins to explain what has happened to him and it is indicated that they will start anew.
Community content is available under
CC-BY-SA
unless otherwise noted.