Benjamin Burwell Johnston Jr. (March 15, 1926 – July 21, 2019) was an American contemporary music composer using just intonation. He was called "one of the foremost composers of microtonal music" by Philip Bush (1997) and "one of the best non-famous composers this country has to offer" by John Rockwell (1990).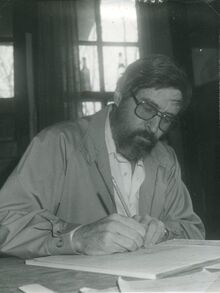 ohnston was born in Macon, Georgia, and taught composition and theory at the University of Illinois at Urbana–Champaign from 1951 to 1986, before retiring to North Carolina. During his time teaching, he was in contact with avant-garde figures such as John Cage, La Monte Young, and Iannis Xenakis (Gann 1995). Johnston's students have included Stuart Saunders Smith, Neely Bruce, Thomas Albert, Michael Pisaro, Manfred Stahnke, and Kyle Gann. He also considered his practice of just intonation to have influenced other composers, including James Tenney and Larry Polansky (Bermel 1995)
Johnston began as a traditional composer of art music before working with Harry Partch. He helped the senior musician to build instruments and use them in the performance and recording of new compositions. Partch then arranged for Johnston to study with Darius Milhaud at Mills College (Duckworth 1995, 122). In 1952, Johnston met Cage, who invited him to come to New York to study with him in the summer. Though Johnston decided he did not have sufficient time to prepare for such studies, he did go to New York for several weeks and assisted, along with Earle Brown, in the production of Cage's eight-track tape composition, Williams Mix (Von Gunden 1986, 22).
Later, in 1957 and 1959, he studied with Cage (Von Gunden 1986, 22), who encouraged him to follow his desires and use traditional instruments rather than electronics or newly built instruments (Bush 1997). Unskilled in carpentry and finding electronics unreliable, Johnston struggled with how to integrate microtonality and conventional instruments for ten years. He also struggled with how to integrate microtones into his compositional language through a slow process of many stages (Gann 1995). However, since 1960 Johnston had almost exclusively used a system of microtonal notation based on the rational intervals of just intonation, what Gann describes as a "lifelong allegiance" to "microtonality" (Gann 1995, 1). Johnston also studied with Burrill Phillips and Robert Palmer (Tyranny 2011; Von Gunden 1986, 23).
Johnston composed music for multiple productions by the E.T.C. Company of La MaMa, Wilford Leach and John Braswell's company-in-residence at La MaMa Experimental Theatre Club in the East Village of Manhattan. His most significant work was Carmilla, which the company performed as part of their repertory throughout the 1970s (La MaMa 2015a). He also composed music for the company's production of Gertrude, a musical about the life of Gertrude Stein (La MaMa 2015b).
His other works included the orchestral work Quintet for Groups (commissioned by the St. Louis Symphony Orchestra), Sonnets of Desolation (commissioned by the Swingle Singers), the Sonata for Microtonal Piano (1964), and the Suite for Microtonal Piano (1977). Johnston completed ten string quartets. The Kepler Quartet recorded all ten of his string quartets for New World Records, finishing in April 2016 just after the composer's 90th birthday (New World Records n.d.).
He has received many honors, including a Guggenheim Fellowship in 1959, a grant from the National Council on the Arts and the Humanities in 1966, two commissions from the Smithsonian Institution, and the Deems Taylor Award. In 2007, the American Academy of Arts and Letters honored Johnston for his lifetime of work. His Quintet for Groups won the SWR Sinfonieorchester prize at the 2008 Donaueschinger Musiktage (Lamparter 2008).
Heidi Von Gunden wrote a monograph on the composer, and Bob Gilmore edited the composer's complete writings, which were published as "Maximum Clarity" and Other Writings on Music by the University of Illinois Press. A three-part oral history covering all stages of his career is housed at the Oral History of American Music through Yale University.
Johnston died from complications of Parkinson's disease in Deerfield, Wisconsin, on July 21, 2019 (Kozinn 2019).
Community content is available under
CC-BY-SA
unless otherwise noted.