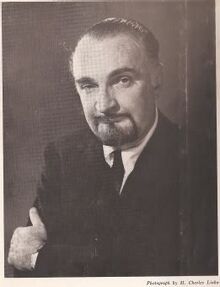 Bill S. Ballinger (born William Sanborn Ballinger on 13 March 1912 in Oskaloosa, Iowa, died 23 March 1980 Tarzana, California) was an American author and screenwriter. He was educated at the University of Wisconsin and was an associate professor of writing at the California State University Northridge, Los Angeles, California.
Working in radio and advertising in the early 1940s, Ballinger wrote 81 radio scripts and produced The Dinah Shore Show, The Breakfast Club, and Lowell Thomas broadcasts. After Ballinger moved from New York to Los Angeles he began writing full-time.
The author of 30 books, Ballinger also used the names B.S. Sanborn and Frederic Freyer. The first was The Body in the Bed in 1948. His most famous work was 1950s Portrait in Smoke that received a Les Grands Maîtres du Roman Policier Award and was filmed in 1956 as Wicked as they Come. Ballinger's two main fictional characters in his novels were Chicago private investigator Barr Breed and Native American Central Intelligence Agency Agent Joaquin Hawke. His book, The Longest Second, was nominated in 1958 for an Edgar Award for the Best Mystery novel.
Ballinger was a frequent writer for American television with 150 teleplays to his name. These included seven teleplays for Alfred Hitchcock Presents (one of which, "The Day of the Bullet," based on a short story by Stanley Ellin, won him an Edgar for Best Half-Hour Teleplay in 1961), two episodes of Kolchak: The Night Stalker, several police television shows such as Tightrope and Ironside and the episode "The Mice" for The Outer Limits.
In addition to his books and teleplays, Ballinger wrote screenplays for Burt Topper's The Strangler (1963) and Operation CIA (1965), a Burt Reynolds spy film set in Vietnam but filmed in Thailand.
Community content is available under
CC-BY-SA
unless otherwise noted.