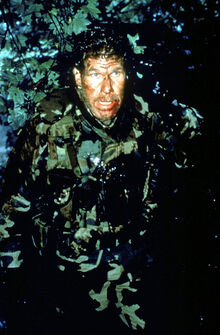 "Black Box" is an episode of The Outer Limits. It was first broadcast on December 11, 1998, during the fourth season.
Contents
1 Synopsis
2 Opening narration
3 Plot
4 Closing narration
5 Cast
Synopsis
A missing package contains powerful secrets, and everyone wants a piece of the action. A war vet (Ron Perlman) from a covert branch of the military has horrifying flashbacks that begin to affect his daily life.
Opening narration
"It is said that conduct on the battlefield is the ultimate measure of a man. But often the enemy we are most afraid to face is much closer... to home."
Plot
Injured and shell-shocked in an ill-fated mission, Lt. Col. Brandon Grace (Ron Perlman) returns to civilian life only to face a new set of battles. Estranged from his daughter, and overwhelmed by his work, Brandon is haunted by horrifying flashbacks of his final mission; images that bleed over into his current reality, leaving him paralyzed with fear.
He believes he is being stalked by a mysterious Commando from his former tactical assault squad, the Aries Group, a secret branch of the military brought together for special assignments. Jennifer, a potential new client, always seems to be present during the assaults by the Commando, first as a silent and hidden observer, then as a confidante. But when the anonymous Commando kills his ex-wife, Grace's paranoid hallucinations become his terrifying reality, and he becomes certain that he is next.
Jennifer pushes Brandon to dig into his memory, to find the reasons for the traumatic visions, and the identity of the mysterious soldier. But Brandon is more interested in gaining his daughter's forgiveness before it is too late.
Closing narration
"Wars can be won or lost but in the battle waged inside a man's soul, only love can heal the wounds."
Cast
Ron Perlman ... Lt. Col. Brandon Grace Maria del Mar ... Jennifer Rigny Chris Mulkey ... Mike Michael David Simms ... Ed Belinda Metz ... Karen Peter DeLuise ... Cop Julie Patzwald ... Cammi Terence Kelly ... General Julie Fitzgerald ... Penny Nancy Kerr ... Dr. Allensworth Donny Lucas ... Hornet
Community content is available under
CC-BY-SA
unless otherwise noted.