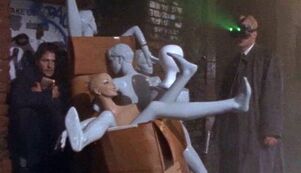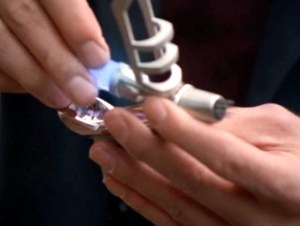 Introduction
A man is being chased down an alley. He ends up in a shelter without any recollection of who he is, just that his memories are stored in a small box he is carrying.
Plot
Hope Wilson (Robbie Chong) knows there's something different about the bruised and breathless man who stumbles into the homeless shelter she runs with her mentor, Jack Parsons (Larry Musser). He looks like a junkie, but his hands are soft and his fingernails manicured. Tom Cooper (Dale Midkiff) doesn't know who he is, where he is and why two well-dressed men, Vincent (Michael Tiernan) and Cole (Brian Jensen), are chasing him. He only knows that the small metal case that he defends so fiercely contains five vials that hold all his memories, reduced to crystal form, as well as a specially designed injector that can delete or restore those memories. With Hope's help, he uses the injector to restore his memories in an attempt to piece together his identity. But there are unforeseen consequences to this. With each injection of memories, Tom' s personality becomes slightly darker. As he injects one crystal and then the next, Tom recovers his unhappy childhood and adolescence, his time in medical school and, to Hope's dismay, his memories of his marriage to his high school sweetheart Paula. With the injection of the fourth crystal, Tom remembers some terrible things. First, that Paula is dead, killed at the hands of a random rapist and murderer. Second, that he was the doctor who developed the process to delete and restore memories, which explains why the government agents are so eager to recapture him. And third, that the government has been testing his device on homeless people without their consent. Horrified at how his invention has been abused, and fearful that the last crystal will change him so much he will lose the new love he has found with Hope, Tom destroys the fifth crystal along with the knowledge it contains, vowing to start life anew with Hope. But with the government hot on his tail, that choice may not be his to make.
Cast
Dale Midkiff ... Tom Cooper Robbi Chong ... Hope Wilson Larry Musser ... Jack Parsons Brian Jensen ... Cole Michael Tiernan ... Vincent David Palffy ... Kramer Dean McKenzie ... Kellar Carmen Aguirre ... Vagrant #1 Jimmy Herman ... Mickey Jeff Burnett ... Terry Harmoni Everett ... Older Paula Chelsea Jonasson ... Younger Paula Jerry Walliser ... Father Chris Moras ... Young Brother
Community content is available under
CC-BY-SA
unless otherwise noted.