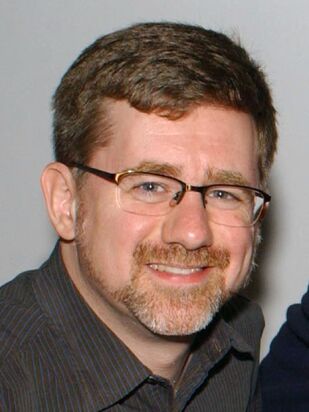 Bruce Harwood (born April 29, 1963) is a Canadian character actor best known for his role of John Fitzgerald Byers, one of The Lone Gunmen on the television series The X-Files. In addition to The X-Files, Harwood portrayed Byers in the spin-off series The Lone Gunmen, which aired thirteen episodes in 2001. He has also played other roles with a strong similarity to Byers, such as Willis, a technician from the Phoenix Foundation in MacGyver, and government-scientist-turned-conspiracy-theorist Dr. Avery Strong in The Outer Limits. He was a founding member of the Vancouver summer Shakespeare festival, Bard on the Beach. He also starred in the 1988 movie Earth Star Voyager.
He trained for years to be a professional ice skater.
His wife Heather is a Drama teacher at a local secondary school.
Bruce worked at the Vancouver Library for many years until his acting work was able to support him. He enjoys good food and good wine, and is an avid reader.
Although not usually billed first during his appearances as John Fitzgerald Byers on "The X-Files", was listed as one of the lead characters on the spin-off show "The Lone Gunmen".
He made guest appearances on all three of the longest running North American science fiction series: The X-Files (1993), Stargate SG-1 (1997) and Smallville (2001).
Community content is available under
CC-BY-SA
unless otherwise noted.