Clifford D. Simak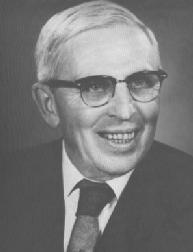 Clifford D. Simak worked as a newspaperman for most of his life and only became a full time writer of sf after his retirement. His first published story appeared in Wonder Stories in 1931. He received the Grand Master Nebula Award in 1976.
During his fifty-five-year career, Clifford D. Simak produced some of the most iconic science fiction stories ever written. Born in 1904 on a farm in southwestern Wisconsin, Simak got a job at a small-town newspaper in 1929 and eventually became news editor of the Minneapolis Star-Tribune, writing fiction in his spare time. Simak was best known for the book City, a reaction to the horrors of World War II, and for his novel Way Station. In 1953 City was awarded the International Fantasy Award, and in following years, Simak won three Hugo Awards and a Nebula Award. In 1977 he became the third Grand Master of the Science Fiction and Fantasy Writers of America, and before his death in 1988, he was named one of three inaugural winners of the Horror Writers Association's Bram Stoker Award for Lifetime Achievement.
Community content is available under
CC-BY-SA
unless otherwise noted.