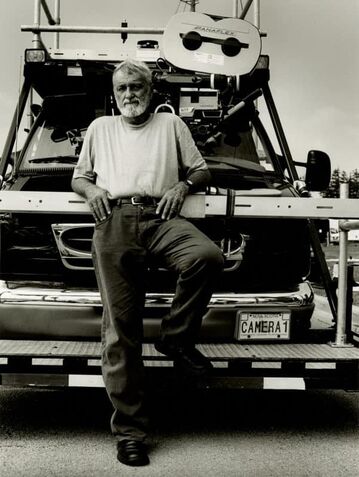 Conrad Lafcadio Hall, ASC (June 21, 1926 – January 4, 2003) was a French Polynesian-born American cinematographer. Named after writers Joseph Conrad and Lafcadio Hearn, he was best known for photogra
phing such films as In Cold Blood, Cool Hand Luke, Butch Cassidy and the Sundance Kid, American Beauty, and Road to Perdition. For his work he garnered a number of awards, including three Academy Awards and BAFTA Awards.
Connie's career got its major boost when Leslie Stevens hired him as Director of Photography for his first TV series, "Stoney Burke", in 1962, and then he became the major DP for the "Outer Limits", from 1963-64, along with his camera operator, Bill Fraker, both of whom moved on to brilliant film careers.
In 2003, Hall was judged to be one of history's ten most influential cinematographers in a survey of the members of the International Cinematographers Guild. He has been given a star on the Hollywood Walk of Fame.
Members of the International Cinematographers Guild named Conrad Hall one of the top ten cinematographers in history. He lensed everything from Butch Cassidy and the Sundance Kid to American Beauty (winning Oscars for both, by the way). You can also ogle his beautiful work in 15 episodes of The Outer Limits — including "The Architects of Fear."
Community content is available under
CC-BY-SA
unless otherwise noted.