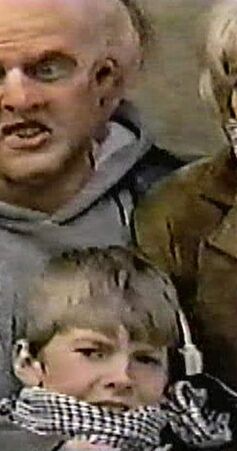 "Criminal Nature" is an episode of The Outer Limits television show. It was first broadcast on January 23, 1998, as the first episode of the fourth season.
Contents
1 Introduction
2 Opening narration
3 Plot
4 Closing narration
5 Trivia
6 Cast
Introduction
Genetic engineering of human beings is now commonplace, but not perfect. Detective Ray Venable is in charge of a team responsible for hunting down deformed children suffering from Genetic Rejection Syndrome.
Opening narration
"
With every scientific advance we grow closer to unlocking the mysteries of

life and creation. But what have we gained if, in the process, we lose our humanity?

"
Plot
The GRS monster children are now adults who commit murders. Detective Ray Venable has a "secret" son with GRS, Dylan, who is harassing his family. Ray injects himself with a serum to temporarily enhance his sensory abilities (like GRS people) in order to hunt him. He does this successfully - only to find out that it was a plot by his son, who placed the serum so that Ray would find it. His son forcefully injects more of the serum into his dad (and reveals to him that his rage/murderous intentions were not caused by the drug), so that Ray now has irreversible GRS and transforms into a monster. Ray kills Dylan, but his family no longer loves him because he looks like the other GRS monsters.
Closing narration
| | | |
| --- | --- | --- |
| " | The most powerful thing we pass along to our children may not reside in the genes...but in the soul. | " |
Trivia
Cast
Gary Cole ... Detective Ray Venable
Louis Del Grande ... Detective Renfro
Jason Gray-Stanford ... Dylan Venable
Lynda Boyd ... Marie Venable
Jill Teed ... Carolyn
Anthony Ulc Joel Palmer ... Jesse Venable
Kavan Smith ... Lt. O'Neill
Rachel Cronin ... GRS Girl - Melanie
John Maclaren ... Rosen (as John MacLaren)
Judith Maxie ... Mayor Grant
Fred Henderson ... Acosta
David Cameron ... Medic