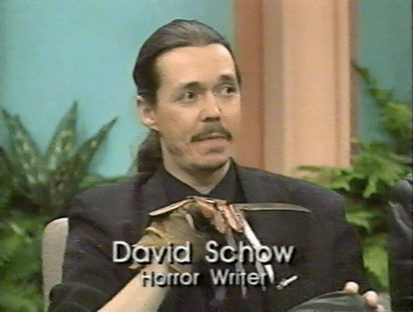 David J. Schow (born July 13, 1955) is an American author of horror novels, short stories, and screenplays. His credits include films such as The Crow and The Texas Chainsaw Massacre: The Beginning. Most of Schow's work falls into the subgenre splatterpunk, a term he is sometimes credited with coining. In the 1990s, Schow wrote Raving & Drooling, a regular column for Fangoria magazine. All 41 installments were collected in the book Wild Hairs (2000), winning the International Horror Guild's award for best non-fiction in 2001.
In 1987, Schow's novella Pamela's Get was nominated for a Bram Stoker Award for best long fiction. His short story Red Light won the 1987 World Fantasy Award for Best Short Fiction. And in 2015, The Outer Limits at 50 won the Rondo Award for Book of the Year in a tie with The Creature Chronicles by Tom Weaver, of which Schow was a contributor.
As an editor, Schow's work includes three volumes of writings by Robert Bloch and a book of short stories by John Farris.
Schow has also been a past contributor to liner notes for cult film distributors Grindhouse Releasing/Box Office Spectaculars, notably on the North American DVD release of Italian filmmaker Lucio Fulci's horror film, Cat in the Brain. He has also written text supplements for the DVDs of Reservoir Dogs and From Hell, and has done DVD commentaries for The Dirty Dozen, The Green Mile, Incubus, Thriller and Creature from the Black Lagoon. An upcoming Blu Ray and DVD edition of season one of The Outer Limits features commentary by Schow on several episodes as well as a booklet essay written by him.
Community content is available under
CC-BY-SA
unless otherwise noted.