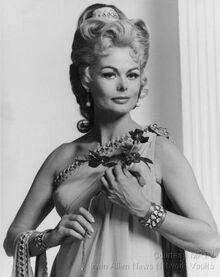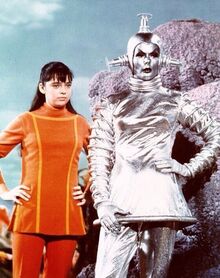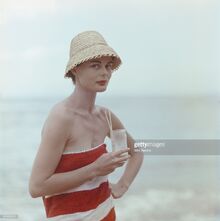 Dee Hartford (born Donna Higgins, April 21, 1928) is a retired American television actress. She was married to Howard Hawks from 1953-59. Her sister was actress Eden Hartford; her former brother-in-law was comedian Groucho Marx.
Born in Salt Lake City, Utah, Hartford is the daughter of Edgar Higgins and Beatrice Thomas Higgins. She attended East High School in Salt Lake City and LDS Business College before becoming a model.
Hartford was a model and actress when she married director Howard Hawks.[2] She initially achieved fame in the late 1940s as a model for Vogue.[3]
Her screen debut was in A Girl in Every Port (1952),[4] directed by Chester Erskine.[5]
She married Hawks in 1953 and did no acting during the six years they were together. They divorced in 1959, though she had an uncredited role in his 1965 film Red Line 7000. In 1964-65, she made three guest appearances on Perry Mason; as Leslie Ross in "The Case of the Accosted Accountant," as Lois Gray in "The Case of the Missing Button", and she played Rhonda Coleridge in "The Case of the Baffling Bug".
In 1964, she also appeared in "The Bewitchin' Pool", the last original broadcast episode of The Twilight Zone. Hartford also guest-starred in Gunsmoke, Burke's Law, The Outer Limits, The Alfred Hitchcock Hour, Batman (two episodes), Time Tunnel, Land of the Giants and Lost in Space (three episodes). She appeared as the android Verda in the 1966 Lost in Space episode "The Android Machine" and in a sequel, "Revolt of the Androids". She also appeared in a third episode of Lost in Space as Nancy Pie Squared in the "Space Beauty" episode about an intergalactic beauty pageant.
Dee Hartford was born on April 21, 1928 in Salt Lake City, Utah, USA as Donna Higgins. She is an actress, known for The Time Tunnel (1966), The Twilight Zone (1959) and The Outer Limits (1963). She was previously married to Stuart Warren Cramer III and Howard Hawks.
Community content is available under
CC-BY-SA
unless otherwise noted.