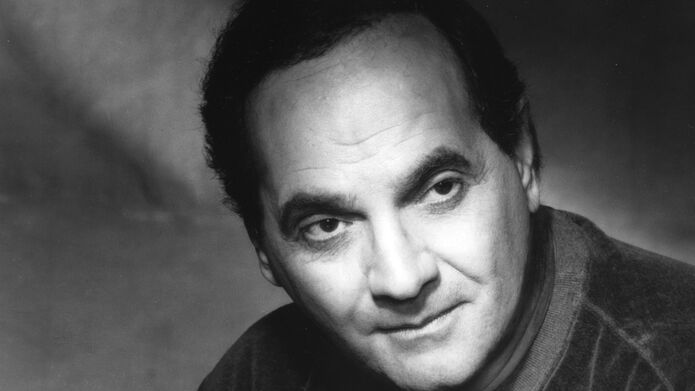 Dominic Carmen Frontiere (June 17, 1931 – December 21, 2017) was an American composer, arranger, and jazz accordionist. He is known for composing the theme and much of the music for the first season of the television series The Outer Limits.
Dominic Frontiere has led a career that has cut across at least four musical genres over a half century. Born into a musical family in New Haven, CT, in 1931, Frontiere took up several instruments as a boy before settling on the accordion, at which he developed a daunting proficiency. At age 7, he was studying with virtuoso Joseph Biviano, and at age 12 he gave a solo recital at Carnegie Hall in New York. Concurrent with his instrumental training, however, Frontiere also studied classical music, particularly composition and arranging. In 1949, he succeeded Dick Contino -- an accordionist who also enjoyed a brief thrust at film and rock & roll stardom in the low-budget movie Daddy-O -- in Horace Heidt's band, and also became Heidt's lead arranger. In 1952, after three years in Heidt's band, Frontiere quit the group to move to California, where he studied at U.C.L.A. with composer Mario Castelnuovo-Tedesco and conductor Felix Slatkin. In an era when the Hollywood movie studios were actively discouraging new applicants to their music departments, Frontiere was lucky enough to find as a mentor Alfred Newman, the head of the music department at 20th Century Fox, and Newman's brother Lionel Newman, both of whom began employing Frontiere in arranging and orchestrating film scores. During this period, Frontiere also became a familiar figure on the West Coast jazz scene, eventually forming his own sextet. He was one of the earlier artists signed to Liberty Records, cutting four albums in a light jazz and pop-jazz vein with his group for the newly formed label. Frontiere also cut several mood music instrumental albums, most notably the exotic Pagan Festival, which was built around Inca themes. And he composed, arranged, and conducted a unique stereo showcase album, called The Mighty Accordion Band, featuring an ensemble of 20 accordions.
Beginning in the early '60s, primarily in association with producer/director Leslie Stevens, Frontiere began composing music for movies and television. His early music scores included the music for Hero's Island and the television series Stoney Burke, but it was with Stevens' science fiction anthology series The Outer Limits that Frontiere made his first mark as a composer. His main title theme and the music that he wrote for the series' first season episodes were among the most innovative and compelling musical scoring ever written for television -- the vertigo-inducing title theme is legendary within the sci-fi genre and some of the best of his background music on three episodes was issued on a soundtrack CD 30 years after the series went on the air. Much of Frontiere's music for the program was superior to a good deal of the music being written for feature films at the time. Although it took 30 years for the program's music to appear on an album, Frontiere became a mainstay of the United Artists music department during the mid-'60s and a familiar name in the composer credits for television series airing on ABC-TV. He wrote the music for such series as The Rat Patrol and The Invaders (both of which occasionally utilized material written for The Outer Limits), but also made a permanent leap to feature films with the scores for films such as Billie and Popi. In 1967, he was engaged to write the music for Clint Eastwood's first American Western, Hang 'Em High. At the time, the producers were looking for music that would approximate the sound of Ennio Morricone's scoring of Eastwood's Man With No Name Westerns done in Italy for director Sergio Leone. The composer declined, pointing out that his name was Frontiere, not Morricone, and worked in his own style. The result was a title theme that took on a life of its own when recorded by Booker T. & the MG's, which got a Top Ten hit out of the piece. His subsequent movies include Hammersmith Is Out, Chisum (which reused some of The Outer Limits music), and The Stunt Man. During the 1970s, he became the head of Paramount's music department for a time, one of the last working musicians to head up a movie studio's music unit full-time. He also worked on some highly visible recordings as an arranger and composer, including the title track of Dan Fogelberg's Netherlands, which he arranged and conducted, orchestrating Chicago XI by Chicago, and the movie Modern Problems, for which he wrote the title song "Gonna Get It Next Time," which was performed by the Tubes. Since the 1980s, Frontiere has been busy working in electronic computer-generated music.
Community content is available under
CC-BY-SA
unless otherwise noted.