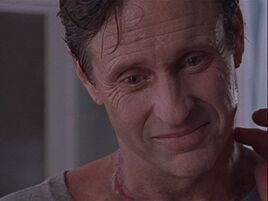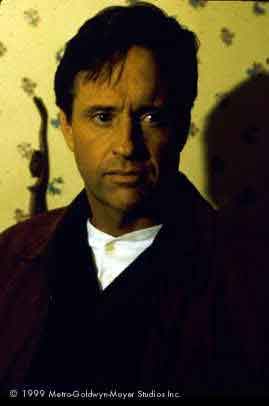 "Donor" is an episode of The Outer Limits television show. It first aired on 29 January 1999.
Contents
1 Opening narration
2 Plot
3 Closing narration
4 Cast
Opening narration
| | | |
| --- | --- | --- |
| " | In an age of medical miracles, who shall live and who shall die may be less a matter of chance... than a matter of choice. | " |
Plot
Dr. Renee Stuyvesant and her protégé Dr. Vince Ridout have perfected the full-body transplant in which a patient's entire disease-riddled body is replaced and Renee has convinced the hospital board to allow her to perform the first such procedure on Dr. Peter Halstead. A fitting choice since Halstead originated the procedure before being stricken with terminal cancer but his rare blood and tissue types make a match unlikely. Renee, who has secretly loved Halstead for years, solves that problem by murdering Timothy Laird, a perfect donor, as he emerges from the flower store. The transplant is a success and the vision of millions in fees dance in Renee and Vince's heads. But Peter is having visions of his own involving a woman, a little girl and a killing outside the flower store. Mysteriously drawn to Laird's old neighborhood, he learns that the people he's been seeing are Deirdre, Laird's widow, and his daughter, Kylie and that he has apparently inherited Laird's love for them. Deirdre recoils when Peter eventually confesses that he inhabits her late husband's body. But that's nothing compared to how Renee responds when Peter reveals that he's had flashes of what Timothy Laird saw just before he was killed.
Closing narration
| | | |
| --- | --- | --- |
| " | Our inexorable march toward death defines our lives, giving meaning to our every waking moment. But how will it change us when our fate is taken out of God's hands... and placed in our own? | " |
Cast
Robert Hays ... Dr. Peter Halstead Wendel Meldrum ... Renee Stuyvescent Tom Cavanagh ... Vance Ridout Lorraine Landry ... Deirdre Laird Chantal Conlin ... Kylie Laird Rice Honeywell ... Timothy Laird BJ Harrison ... Administrator Kimberly Unger ... Reporter #1 Verne Prior ... Reporter #2 Ross Douglas ... Andy Morgan
Community content is available under
CC-BY-SA
unless otherwise noted.