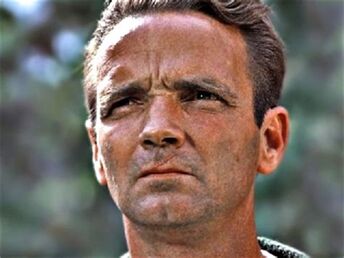 Fred Krone (1931 – January 12, 2010), often called "Crunch", was an American stuntman who worked predominantly in movie Westerns.
Krone began working in the 1950s performing stunts and as an actor. He worked in the early days of Steve McQueen's career and doubled for McQueen in 1960/61 on the TV series Wanted: Dead or Alive, among others.
He had appearances on The Range Rider, Yancy Derringer (S1E02 "Gallatin Street"), The Rifleman, The Texan, The Life and Legend of Wyatt Earp, and many more. He made a brief appearance on Perry Mason in 1966 as jewel thief and murder victim Nils Dorow in "The Case of the Tsarina's Tiara." He worked well into the 1970s and appeared on several episodes of Mannix. Krone died on January 12, 2010 in Santa Paula, California after a long battle with cancer.
Stuntman and actor Fred Krone was born on June 19, 1930 in Kentucky. Krone grew up in California and attended Hollywood High School in the 1940's. Fred originally planned on being a concert violinist but an accident in 1946 that resulted in some of his fingers getting blown off ended that choice. Krone started out doing stunt work with his sister as a youth and began his career as a professional stuntman in earnest in the early 1950's after actress Carolina Cotton introduced Krone to fellow stuntman Jock Mahoney. Fred's career as both an actor and stuntman spanned three decades altogether. Among the notable actors that Krone doubled are Steve McQueen, David Janssen, Myron Healey, Kirby Grant, Steven Hill, Gene Barry, and Efrem Zimbalist Jr.. In 1974 Fred voluntarily quit the film industry and went on to operate a very successful clock repair business that he eventually sold in 1992. A lifetime member of the Stuntmen's Association of Motion Pictures, Fred died of cancer at age 79 on January 12, 2010 in Santa Paula, California.
Community content is available under
CC-BY-SA
unless otherwise noted.