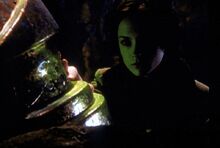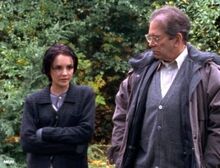 "Glyphic" is an episode of The Outer Limits television show. It was first broadcast on March 20, 1998, during the fourth season.
Contents
1 Opening narration
2 Plot
3 Closing narration
4 Cast
Opening narration
"Human beings naturally fear that which is unknown or different. But unless we strive to conquer those fears, they may exact a price far greater than we can bear."
Plot
When Tom Young (Peter Flemming) from the Department of Health travels to a small town in the Pacific Northwest to examine an old case file, it appears as though long ago, the town had stopped trying to live in the present. Twelve years have passed since a tragedy killed many of their young children and left the residents without hope, without a future. Many of them are still angry with the medical community for not finding a cure to save the children in their small community. The town's physician, Dr. Malcolm Boussard (Lane Smith) has felt the brunt of their anger, especially since his own two children did not die during the epidemic. Although they were spared, his son Louis (Brad Swaile) still lies in a coma while his daughter Cassie (Rachael Leigh Cook) has learning disabilities and expresses herself through abstract sculpture and artwork.
Through hypnosis, Tom begins to probe Cassie's mind and unravels a memory of 'alien' proportions. He discovers, that Cassie discovered an alien artifact that fell from the sky and that she unknowingly temporarily activated it in a careless manner, which caused the disaster. He also discovers, that the alien probe was then turning her into a translater between humans and these aliens in order to improve relations and help by giving her the ability to heal her brother.
He realises this, however, too late. When she find the artifact, they destroy it and then she is lobotomised. Still she was able to cure her brother so that he can wake up before this happens. After that the authorities, in shame because of their wrong decision, begins to investigate the destoyed artifact
Closing narration
"It is said the human capacity for language is the quality which separates us from all other species on Earth. Perhaps it is also the same quality which can link us to those beyond... but only if we are willing to listen."
Cast
Rachael Leigh Cook ... Cassie Boussard Peter Flemming ... Tom Young Tom McBeath ... Dr. Joseph Mitchell Robin Duke ... Sheriff Marie DuPont Tom Heaton ... Jim Lane Smith ... Dr. Malcolm Boussard Brad Swaile ... Louis Boussard Shannon Beaty ... Young Cassie Ryan DeBoer ... Young Louis Jonathon Young ... Billy Constance Barnes ... Doctor Heather Chopko ... Receptionist
Community content is available under
CC-BY-SA
unless otherwise noted.