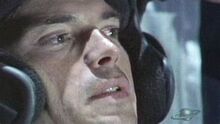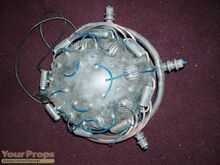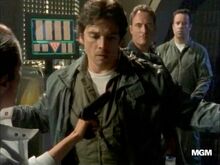 "Human Trials" is an episode of The Outer Limits television series. It first aired on 18 January 2002, and is the final episode of the seventh season and of the series (154th).
Contents
1 Introduction
2 Opening narration
3 Plot
4 Closing narration
5 Cast
Introduction
This episode is a clip show. Clips appear from the following episodes: "Nightmare", "Hearts and Minds", "The Human Operators", "In the Blood", "Monster", "The Voyage Home", "Tempests", and "Worlds Within".
Opening narration
| | | |
| --- | --- | --- |
| " | It is said we are judged, not by our words, but by our deeds. And yet, how many of us are ready to stand up to such scrutiny? | " |
Plot
Captain Kelvin Parkhurst (Jason Gedrick) has proven himself the best on previous military missions, and now he's agreed to take the toughest test of his life to prove himself the most qualified again. Along with three other equally decorated recruits—Captain Alice Wheeler (Leanne Adachi), Captain William Hinman, and his old rival, Captain Eric Woodward (Lochlyn Munro)—he has been invited by the military to compete for the opportunity for a secret solo mission. The recruits are tested using a Neural Stimulator which transports them into dangerous, challenging and very real situations. Captains Wheeler and Hinman are soon eliminated, leaving only Parkhurst and Woodward to compete for the mission. But as the tests become more extreme, the line between reality and simulation becomes blurred, and winning may no longer be the ultimate goal.
Closing narration
| | | |
| --- | --- | --- |
| " | Our choices define us... and sometimes doom us. | " |
Cast
Community content is available under
CC-BY-SA
unless otherwise noted.