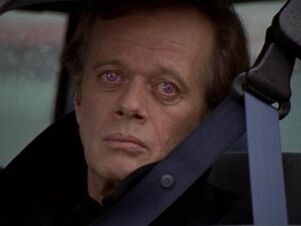 "I Hear You Calling" is an episode of The Outer Limits television show. It first aired on 26 January 1996.
Contents
1 Introduction
2 Opening narration
3 Plot
4 Closing narration
Introduction
A reporter on her way to work overhears a cellular phone conversation about the "removal" of a controversial author. Her investigation reveals a trail of people who disappeared leaving only a pile of ash behind... and the involvement of a man with strange violet eyes.
Opening narration
"The search for truth is a noble venture. But what happens when that search becomes so obsessive that we no longer find truth but instead... create it?"
Plot
After a series of chases and narrow escapes, the alien hitman finally catches up with the reporter and reveals to her that the people he's been "removing" had accidentally contracted a deadly alien virus, and that he's been hunting them down in order to prevent them from spreading the virus to the rest of humanity. The hitman explains that the reporter has also contracted the virus through her contact with one of the targets, and the reporter ultimately decides to sacrifice herself to spare humanity from the disease. The hitman corrects the reporter, he has not been vaporizing the targets, merely teleporting them off Earth where the disease is not fatal. The episode ends with the alien and the reporter teleporting away.
Closing narration
"Nothing happens by chance. Life has a design all its own. For one person's sacrifice can be another's... salvation."
Cast
Ally Sheedy ... Carter Jones Michael Sarrazin ... Stranger Ken Pogue ... Mr. Jones John Tench ... Collins Johnny Cuthbert ... Detective (as Jon Cuthbert) Ken Camroux-Taylor ... George Fallson (as Ken Camroux) Susan Hogan ... Phoebe Collins Jano Frandsen ... Taylor Eric Keenleyside ... Peters Russell Ferrier ... Detective A.C. Peterson ... Motel Manager (as Alan Peterson) Frank Ferrucci ... Receptionist (as Francesco Ferrucci)
Community content is available under
CC-BY-SA
unless otherwise noted.