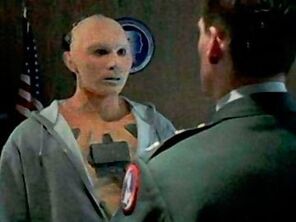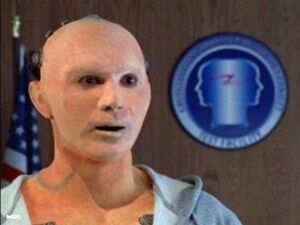 Captain Cotter McCoy (Lou Diamond Phillips) is the first of a new breed of soldier. As part of a top-secret program overseen by Dr. Greg Olander (Robert Joy), General Langston Chase (Dale Wilson), and Cotter's friend, Colonel Pete Butler (Scott Kraft), the contents of McCoy's brain can be temporarily transferred into an android version of himself. This process creates a virtually-indestructible fighting machine with the smarts and experience of a human being. But one day, something goes wrong. During the transfer, the real McCoy's body is blasted with electricity, stopping his heart, inflicting serious brain damage and leaving Cotter's mind trapped in the android body. To make matters worse, the interface between his mind and the android body is flawed. McCoy's motor control is already beginning to break down and the interface will likely collapse within 12 hours. The General is prepared to sacrifice McCoy to keep the program secret, but McCoy uses his enormous strength to break out and visit his wife, Holly (Teri Polo). Together, they track down Olander and begin a desperate search for what went wrong. As all the signs begin to point to sabotage, McCoy asks himself who would do such a thing? And more importantly, how can it be undone?
Cast
Lou Diamond Phillips ... Captain Cotter McCoy
Robert Joy ... Dr. Greg Olander
Scott Kraft ... Colonel Pete Butler
Dale Wilson ... General Langston Chase
Teri Polo ... Sally McCoy
John McConnach ... Commando
Awaovieyi Agie ... Guard
Community content is available under
CC-BY-SA
unless otherwise noted.