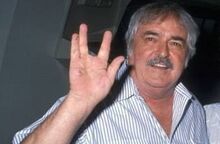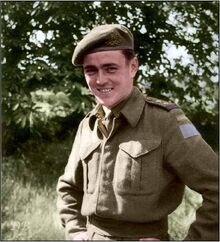 James Doohan was born on March 3, 1920 in Vancouver, British Columbia, Canada as James Montgomery Doohan. He is known for his work on Star Trek: The Original Series (1966), Star Trek IV: The Voyage Home (1986) and Star Trek VI: The Undiscovered Country (1991). He was married to Wende Doohan, Anita Yagel and Janet Young. He died on July 20, 2005 in Redmond, Washington, USA.
Before becoming the beloved engineer aboard the Starship Enterprise, James Doohan was known to his World War II regiment as the "craziest pilot in the Canadian air force."
Television's most famous Scotsman was actually a Canadian of Irish descent. Born on March 3, 1920, in Vancouver to a pair of Irish immigrants, James Doohan was the youngest of four children. His father worked as a pharmacist, dentist, and veterinarian, but was also a severe alcoholic who made life very difficult for his family.
After attending high school at the Sarnia Collegiate Institute and Technical School, where he particularly excelled in physics, chemistry, and mathematics, Doohan fled his tumultuous home life and enlisted in the Royal Canadian Army. The young cadet was just 19-years-old and the world was just a year away from its most devastating point in the war.
By 1940, James Doohan had worked his way up to the rank of lieutenant and was sent over to England with the 14th Field Artillery Regiment of the 3rd Canadian Infantry Division.
Four years later, his division would take part in the greatest maritime invasion in history: D-Day. The invasion of France at Normandy beach was a joint operation between Canada, Britain, and the United States, with each allied country assigned to take a portion of the beaches. The Canadian Army, and Doohan's division along with it, was tasked with taking the area known as Juno Beach.
Although air support had been sent out prior to the landing to try and chip away at the formidable German defenses, the soldiers sailed towards the Normandy beaches the morning of June 6th, 1944 still faced a seemingly insurmountable task.
James Doohan and his men had to somehow get close enough to the shore that they could then disembark without drowning under the full weight of their equipment, all the while enduring a constant barrage of enemy fire in the broad daylight.
Once on the actual beaches, they had to make their way across sand littered with anti-tank mines the Germans had buried and try to avoid being shot by snipers backed by the advantage of higher ground. Those who made it off the beaches alive then had to face off against two German infantry battalions before finally facing their objective.
James Doohan seemed to have fate on his side that historic day as he led his men onto the beaches of Normandy. They miraculously managed to cross over the beaches without setting off any of the mines. The Canadians secured their objective before noon and troops continued to flood in throughout the day and consequently transformed the beaches that had been an Axis death trap that morning into an Allied foothold by night.
Doohan managed to take out two German snipers, but would not emerge from D-Day entirely unscathed.
Around 11 PM that night, a jumpy Canadian sentry fired at Doohan as the lieutenant was walking back to his post. He was hit by six bullets: four times in the left knee, once in the chest, and once in the right hand.
The bullet to his hand took off his middle finger (an injury he would always attempt to hide during his later acting career) and the one to his chest would have been fatal had it not been deflected by the cigarette case Doohan had just put back into his pocket, leading the actor to later quip that smoking had actually saved his life.
Doohan recovered from his wounds and joined up with the Royal Canadian Artillery, where he was taught how to fly a Taylorcraft Auster Mark IV plane. He was later dubbed the "craziest pilot in the Canadian air force" after flying between two telephone poles in 1945 just to prove that he could.
Community content is available under
CC-BY-SA
unless otherwise noted.