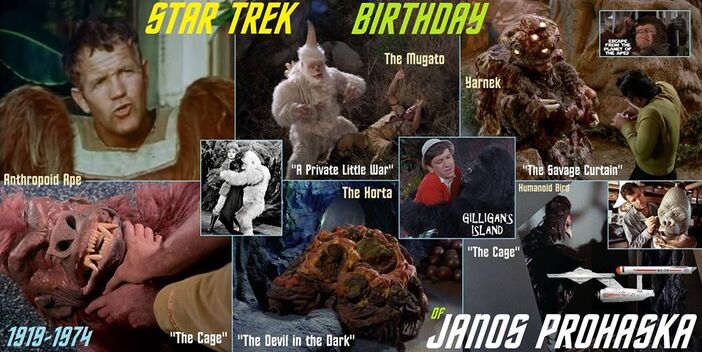 Janos Prohaska (October 10, 1919, Budapest, Hungary – March 13, 1974, Inyo County, California, United States) was a U.S.-based Hungarian actor and stunt performer on American television from the 1960s. He usually played the roles of animals or monsters.
He is best remembered for his recurring comic role as The Cookie Bear in The Andy Williams Show from 1969 to 1971. Prohaska also appeared in multiple roles on such TV series as The Outer Limits, Bewitched, I Dream of Jeannie, Lost in Space, and a few episodes of Gilligan's Island, where he plays a gorilla. His only credited role on that series appears in the episode "Our Vines Have Tender Apes." In 1967 he appeared as a white gorilla in the "Fatal Cargo" episode of the ABC-TV sci-fi series Voyage to the Bottom of the Sea. On NBC-TV's Star Trek his turns as the Horta in Star Trek's "The Devil in the Dark", and the Mugato (credited, curiously enough, as the Gumato) in "A Private Little War" are the best known of these. He made an appearance on an episode of What's My Line? in 1969, where he wore one of his ape costumes.
Janos Prohaska was born on October 10, 1919 in Budapest, Hungary. He is known for his work on Bikini Beach (1964), The Outer Limits (1963) and Star Trek: The Original Series (1966). He was married to Irene M . Knoke. He died on March 13, 1974 in Bishop, California, USA.
Community content is available under
CC-BY-SA
unless otherwise noted.