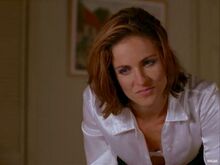 Jessica Steen (born December 19, 1965) is a Canadian film and television actress, noted for her roles in Captain Power and the Soldiers of the Future, Homefront, Earth 2, Armageddon, Left Behind: World at War, NCIS, Flashpoint and the CBC series Heartland.
A native of Toronto, Canada, Jessica Steen is probably best known in the U.S. for having been a regular on two short-lived TV series: the critically acclaimed Homefront (1991) and the science fiction show Earth 2 (1994). She also appeared opposite Michael Richards (Kramer from Seinfeld (1989)) in the film Trial and Error (1997). She was additionally the only female regular on the 1987 syndicated show, Captain Power and the Soldiers of the Future (1987), and has appeared as a guest star on a number of other TV series including ER (1994), Touched by an Angel (1994), Murder One (1995), and The Outer Limits (1995).
Aside from her entertainment career, Steen is an environmentalist and animal rights supporter. She supports David Suzuki, the World Society for the Protection of Animals and the Western Canadian Wilderness Committee, among others. She is a certified diver, and is skilled at several circus arts – including stilt-walking, fire-twirling, and fire-eating.
REFERENCES
Community content is available under
CC-BY-SA
unless otherwise noted.