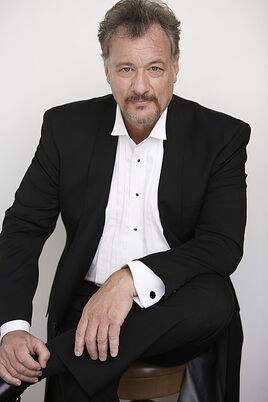 John de Lancie is an American actor, director, producer, writer, and voice artist, best known for his role as Q in Star Trek: The Next Generation (1987–94), and the voice of Discord in My Little Pony: Friendship Is Magic (2010–2019).
He has been featured in several recurring roles on television series, including Frank Simmons in Stargate SG-1 (1997–2007) and Donald Margolis in Breaking Bad (2008–13).
Raised by secular parents, de Lancie is an atheist and humanist, who routinely advocates for others who have this view to be open about it. Of his education in a religious school in Philadelphia, he remembers associating religion with manipulation. Rather than developing a religious outlook, de Lancie became fascinated by an ever-changing world: "I'm wondering if one of the things at the core of believing in God, or not, has to do with change. I have grown to embrace change. Personally, I love reading the science section in the paper every morning. I'm in awe of humankind's boundless curiosity."
On July 14, 2017, de Lancie attended the unveiling of a statue of Clarence Darrow at the Rhea County Courthouse, Dayton, Tennessee, the site of the Scopes Trial in 1925, where Darrow had argued in favor of the teaching of evolution and secular education.
Community content is available under
CC-BY-SA
unless otherwise noted.