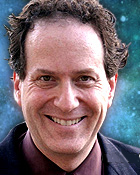 Jonathan Glassner
is a television writer, director, and producer. He is known for his involvement with
Stargate SG-1
(where he was executive producer for the first three seasons) and
The Outer Limits
. Glassner was initially noticed as a writer for his work on
Alfred Hitchcock Presents
. After writing for several television series, including
21 Jump Street
, Glassner moved on to
The Outer Limits
, which naturally segued into his involvement with
Stargate SG-1
as a staff writer and executive producer. His most recent work is as a writer and director for
CSI: Miami
,
CSI: NY
, and other shows. He was also a Co-Executive Producer on the NBC show
Heist
and the FOX show
Standoff
, as well as for Sci-Fi Channel's
The Invisible Man
.
While at Northwestern University, Glassner also played a leading role in the development and production of Rising Stars, which became the model upon which Star Search was developed.
Community content is available under
CC-BY-SA
unless otherwise noted.