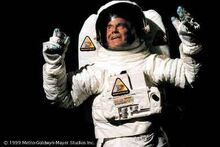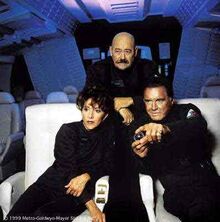 Plot
When NASA astronaut Theodore Harris was in space the first time on September 16, 1963, it didn't go quite as planned. Alone in his spacecraft, he panicked and aborted the mission when a mysterious violet light penetrated the cockpit and began enveloping his body. In the investigation that followed, no evidence could be found to support his story, leaving a blot on Harris' NASA record and his life in ruins. And now, at age 63, he knows he can never make amends with his estranged wife, Madelaine, but he feels that he could clear his name if he could just get back to where he saw the light. When NASA turns him down, Harris is recruited by Carlton Powers, a self-made billionaire who plans to privatize space travel and thinks Harris' presence on the inaugural flight (on his new Daedalus spaceship) will help him sell the service. Harris and Power are joined on the flight by Martin Reese, a skeptical tabloid reporter, Lil Vaughn, an eccentric fashion mogul and Ty and Barbara Chafey, young newlyweds who won a contest to travel on the space plane. But none of the Daedalus passengers know that Harris has reprogrammed the flight plan to take the flight to the site of the close encounter that shattered the young man's life.
Trivia
September 16, 1963 was the date that "The Galaxy Being", the first episode of The Outer Limits, aired on ABC. In both episodes, the protagonist was played by Cliff Robertson.
Cast
Cliff Robertson ... Theodore Harris
Andrea Martin ... Lil Vaughn
Mackenzie Gray ... Martin Reese
Erin Daniels ... Barbara Chafey
Adam J. Harrington ... Ty Chafey (as Adam Harrington)
Scott Hylands ... Wayne
Barry Corbin ... Carlton Powers
Peter Bryant ... Commander Sullivan
Pamela Perry ... Madelaine Parkhurst
G. Patrick Currie ... Young Harris
(as Gerry Currie) Lorena Gale ... Committee Member
Peter Kelamis ... Brain Wakefield
Paul Magel ... Navy Frogman
Joanna Piros ... Reporter #1
Kevin Hayes ... Reporter #2
Community content is available under
CC-BY-SA
unless otherwise noted.