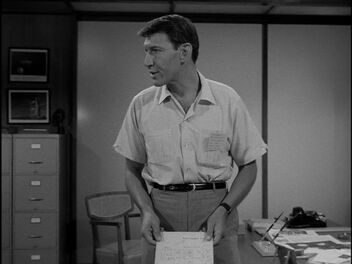 Lawrence Montaigne
(February 26, 1931 – March 17, 2017) was an American actor, writer, dancer, and stuntman. As an actor, he was known for his appearances on many 1960s-era television shows.
"Every actor should have a Great Escape" wrote Lawrence Montaigne in his autobiography "A Vulcan Odyssey". He referred, of course, to the famous 1960's P.O.W. classic in which he played a small role. His character, Canadian prisoner Haynes, gets killed at the end of the film. Nonetheless, this was his self-declared favorite and career defining part. For most of us, Montaigne will be regarded as one of the most prolific science fiction actors of the era. We remember him as the robotic Mr. Glee in two seminal episodes of Batman (1966) versus The Joker; as Yellow Elk, a native American who finds himself in the base of The Time Tunnel (1966); as a THRUSH agent infiltrating the headquarters of The Man from U.N.C.L.E. (1964); as a sinister alien assassin in The Invaders (1967); most importantly, as Spock's Vulcan 'pon farr' rival Stonn and as Decius, the first Romulan ever glimpsed in two of the very best episodes of the original Star Trek: The Original Series (1966). Had Leonard Nimoy decided to leave the show for Mission: Impossible (1966) -- at one stage a distinct possibility-- Montaigne, who resembled him in appearance, would have succeeded him in the Spock role.
A native New Yorker raised in Italy, Montaigne began his career in summer stock at the Belgrade Playhouse in Maine. He was multilingual, had trained as a classical dancer and first came to California as a member of the Hollywood Bowl Ballet Company. His introduction to the screen came both via dancing and stunt work in swashbucklers, the latter aided by the fact that he was also an accomplished fencer. After military service in the Marine Corps, he went on to complete his training at the Dramatic Workshop in New York. His role in The Great Escape (1963) then opened the doors to regular engagements in television beginning with guest spots on quintessential series like Perry Mason (1957), The Fugitive (1963), The Rogues (1964), Hogan's Heroes (1965), and, of course, Star Trek. He retired in the late 1980's. Based in Las Vegas he continued to be much involved in the convention scene. Montaigne wrote a screenplay for Disney in 1978 and subsequently penned two novels: "The Guardian List" and "The Barrel of Death". He held a Masters Degree from North Texas State University where he also lectured on film as an Associate Professor.
Community content is available under
CC-BY-SA
unless otherwise noted.