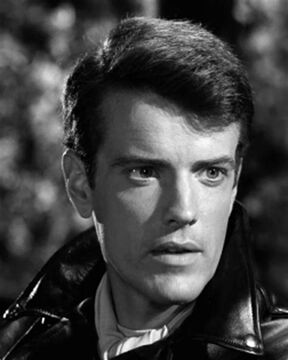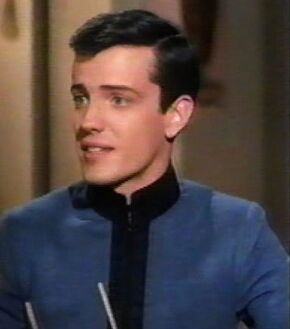 Arthur Lee Kinsolving Jr. (August 30, 1938 – December 4, 1974), known professionally as Lee Kinsolving, was an American film, theater and television actor. In 1960, Kinsolving was nominated for a Golden Globe for Best Supporting Actor at the 18th Golden Globe Awards for his role as Sammy Goldenbaum in the film The Dark at the Top of the Stairs. He lost the award to actor Sal Mineo.
Gifted, poetic actor who never fulfilled his potential. The son of an Episcopal minister and the eldest of four, Kinsolving began acting after his first year of college. A Method actor, Kinsolving studied under Mary Welch of the famed Actors Studio in New York.
After a short turn on Broadway, he was signed by agent Richard Clayton, who had brought both James Dean and Tab Hunter to stardom. Soon, Kinsolving was appearing in various East Coast television shows, including the live presentation of Eugene O'Neill's "Ah, Wilderness!" with Helen Hayes. In 1959, Kinsolving headed for Hollywood, rooming with actor James Franciscus. After several more TV appearances in such shows as Have Gun - Will Travel (1957), Kinsolving landed his first movie role, with Alan Ladd, in 1960's All the Young Men (1960). That same year, he gave a moving performance as "Sammy Golden" in the film adaptation of William Inge's The Dark at the Top of the Stairs (1960). Kinsolving won raves and a Golden Globe nomination for Best Supporting Actor. Regrettably, Kinsolving made only one more film, The Explosive Generation (1961), before completing his brief career in TV guest roles. Nonetheless, Kinsolving brought a striking combination of sexuality, pathos and vulnerability to his work (including an outstanding performance in Route 66 (1960). Kinsolving retired from acting in 1966, due to his personal frustrations with the business. For two years, he owned a hip restaurant-bar, "Toad Hall", in Manhattan.
After brief romances with Tuesday Weld and Candice Bergen, Kinsolving sold his bar and married in late 1969. Moving to Florida, he managed two art galleries. After divorcing his wife in 1972, Kinsolving, an avid seaman, spent the remainder of his life sailing exotic locales in his private schooner.
Sadly, Kinsolving developed a strange respiratory illness which, without warning, rendered him unconscious. On the afternoon of December 4, 1974, Kinsolving collapsed and died in his Palm Beach apartment. He was 36.
Community content is available under
CC-BY-SA
unless otherwise noted.