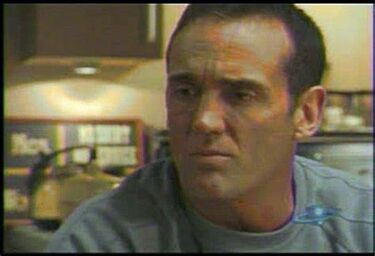 "Lion's Den" is an episode of the seventh season of The Outer Limits. It aired on September 8, 2001 and was written and directed by Matt Hastings.
Contents
1 Introduction
2 Opening narration
3 Plot
4 Closing narration
5 Cast
Introduction
A pressured high school wrestling coach gives his team an experimental new drug to help them get to the state championships.
Opening narration
"Our desire to exceed our own limitations can be a positive drive for self-improvement... or a siren, calling us to self-destruction."
Plot
Coach Peter Shotwell used to be a contender. Back in Lewisborough High School he just missed his Olympic dreams when he blew out his knee. While his best friend Jon went on to international athletic stardom, Peter became coach of the Lewisborough Lions, the school's wrestling team. But in a series of bad years, this year's the worst. The Lions are at the bottom of the league and Morris, his son and a member of the team, is constantly angry at his dad for his failures. Jon tells Peter about a new performance-enhancing drug called Nuriflex 500 which he assures contains scientifically balanced nutrients that can help the team to victory. Peter hesitates, but with mounting pressure from the school's principal and his own son to win, he agrees to a trial run. The results are almost immediate and astonishing. With the Lions on the drug they soon rise to the top — but their startling success comes with a high price. Spliced with unusual DNA, the drug has side effects with horrific consequences.
Closing narration
"The values we instill in our children are those within ourselves. We should make sure they are the values we want them to live by... and die by."
Cast
Shawn Ashmore ... Morris Shottwell Crystal Bublé ... Linda Stephen Chang ... John Li Roger Cross ... Jon (as Roger R. Cross) Sarah Deakins ... Amanda Nance Noel Fisher ... Brae Duncan Fraser ... Coach Terni Jeremy Guilbaut ... Brent Kearns Larry Musser ... Larry Leonard P.J. Prinsloo ... Eric Alejandro Rae ... Warren (as Alex Rae) John Wesley Shipp ... Coach Peter Shotwell
Community content is available under
CC-BY-SA
unless otherwise noted.