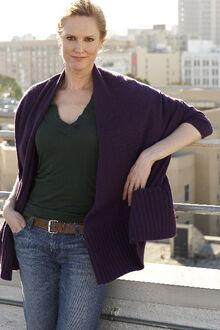 Melissa Rosenberg wrote the revival series episode "The Sentence".
Melissa Anne Rosenberg (born August 28, 1962) is an American screenwriter. She has worked in both film and television and has won a Peabody Award. She has also been nominated for two Emmy Awards, and two Writers Guild of America Awards. Since joining the Writers Guild of America, she has been involved in its board of directors and was a strike captain during the 2007–2008 Writers Guild of America strike. She supports female screenwriters through the WGA Diversity Committee and co-founded the League of Hollywood Women Writers.
She worked on several television series between 1993 and 2003 before joining The O.C.'s writing staff, eventually leaving the show to write the 2006 film Step Up. From 2006 to 2009, she served as the head writer of the Showtime series Dexter, rising to executive producer by the time that she departed at the end of the fourth season. She wrote her second produced screenplay, the 2008 film adaptation of Stephanie Meyer's novel Twilight in 2007, and then adapted the novel's three sequels, New Moon, Eclipse, and Breaking Dawn.
Rosenberg is also widely known as the creator of Netflix original series Jessica Jones.
Community content is available under
CC-BY-SA
unless otherwise noted.