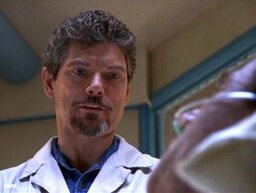 "New Lease" is an episode of The Outer Limits television series. It first aired on March 21, 1997, during the third season.
Contents
1 Introduction
2 Opening narration
3 Plot
4 Closing narration
5 Cast
Introduction
Dr. James Houghton and Dr. Charles McCamber, working in secret, develop a means of revitalizing the dead.
Opening narration
| | | |
| --- | --- | --- |
| " | The quest to conquer death is as old as man himself. We conjure dark angels, whose untimely arrival we hope to avert with guile and perseverance. But in the end it is inevitably the grave, not hope, which prevails. | " |
Plot
Dr. James Houghton and Dr. Charles McCamber, working in secret, develop a means of revitalising the dead. After a semi-successful test—a patient is revived, but immediately begins a painful deterioration—Dr. Houghton is assaulted and killed in a robbery attempt. He is revived believing that he has only a few days to live. Fearing that he has neglected his wife, he tries at first to make up for it by showering her with attention and affection—but his resentment toward the man who murdered him takes over. Certain that he will die soon, he takes revenge on the robber—only to find out later that he will live. He is arrested later that day on murder charges, and is likely to spend the rest of his life in prison.
Closing narration
"If we measure how much we value life, solely by our dread of dying, then it may well be that we have no sense of its value... at all."
Cast
Stephen Lang ... Dr. James Houghton
Terence Kelly ... Oscar Reynolds
Nancy Sorel ... Page Houghton
Michael Ontkean ... Dr. Charles McCamber
Britt Irvin ... Katrine Houghton (as Brittney Irvin)
Jason Priestley ... Anthony Szigetti
Michael Kopsa ... Detective Broder
Rick Ravanello ... Driver
Community content is available under
CC-BY-SA
unless otherwise noted.