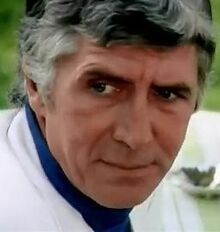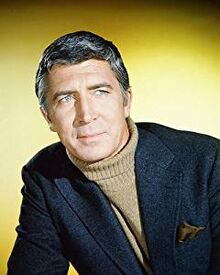 Patrick Wisdom O'Neal (September 26, 1927 – September 9, 1994) was an American television, stage and film actor and New York restaurateur.
O'Neal was born in Ocala, Florida, to Martha and Coke Wisdom O'Neal. He attended the Riverside Military Academy in Gainesville, Georgia and Ocala High School. Upon graduation, he enrolled at the University of Florida in Gainesville where he majored in drama. During college, O'Neal joined the Florida Players, a theatre troupe. He was also a member of the Sigma Alpha Epsilon fraternity and was the editor of the university yearbook. After earning a bachelor's degree, O'Neal enlisted in the United States Air Force and served during the Korean War. During the war, he directed short training films. After 15 months service, he moved to New York and studied at the Actors Studio and Neighborhood Playhouse.
O'Neal was seen mostly as a guest star on television throughout four decades, beginning in the 1950s. In the early 1960s, he received critical praise for his leading role on Broadway in Tennessee Williams' The Night of the Iguana but the starring role for the 1964 film version went to Richard Burton. In 1969, he had a leading role in John Huston's The Kremlin Letter and a supporting role in the western El Condor. He appeared in the 1973 hit The Way We Were. In 1972, he portrayed a murderous architect in the Columbo episode "Blueprint for Murder". In 1990, he played the corrupt Police Commissioner Kevin Quinn in Sidney Lumet's Q&A. With his wife and his brother Michael, O'Neal co-owned a number of successful restaurants, including the Ginger Man (later O'Neal's Restaurant) and the Landmark Tavern, both in Manhattan.
O'Neal married actress Cynthia Baxter in 1956. They had two sons, Maximilian and Fitzjohn, and remained married until O'Neal's death.
O'Neal died on September 9, 1994, of respiratory failure at Saint Vincent's Catholic Medical Center in Manhattan, 17 days short of his 67th birthday. At the time of his death, O'Neal also was suffering from cancer and tuberculosis.
Community content is available under
CC-BY-SA
unless otherwise noted.