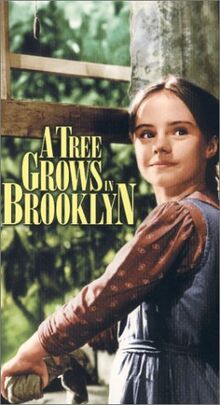 Peggy Ann Garner (February 3, 1931 – October 16, 1984) was an American actress.
As a child actress, Garner had her first film role in 1938. At the 18th Academy Awards, Garner won the Academy Juvenile Award, recognizing her body of contributions to film in 1945, particularly in A Tree Grows in Brooklyn and Junior Miss.
Featured roles in such films as Black Widow (1954) did not help to establish her in mature film roles, although she progressed to theatrical work and she made acting appearances on television as an adult.
Actress Peggy Ann Garner was was born Feb. 3, 1932, in Canton, Ohio. Her father was an English-born attorney, William H. Garner, who served as a U.S. Army officer during World War II. Virginia, her determined mother, got Peggy into summer stock and modeling before she was six. Estranged from her husband, Virginia moved with her daughter to Hollywood a year later. Peggy was cast in several films before gaining fame as Francie Nolan in A Tree Grows in Brooklyn (1945). After years of separation and estrangement, her parents were divorced in 1947. Peggy, who had a falling out with her mother, went to court to have her father appointed as her guardian.
By the time she reached 20, she had moved from Hollywood to New York to try her talents on Broadway. She spent much of the 1950s living and working in New York, studying with the Actors Studio. She appeared on stage with Dorothy Gish in The Man in 1950, A Royal Family in 1951 and Home is the Hero in 1954. She also was in the road company of Bus Stop in 1955. She received Harvard's Hasty Pudding Award for Woman of the Year in 1956.
Her film career began to fade as she grew older, but she did stage and television work as well as a few other films, never recapturing her childhood fame. Even while earning her living as a real estate broker in the 1960s and as a fleet automobile sales manager during the 1970s, she dreamed of a return to the screen.
She was married and divorced three times. Her second husband was actor Albert Salmi, by whom she had a daughter, Catherine. Catherine died shortly after her mother Peggy's untimely death from cancer. Peggy's mother Virginia outlived both her only child and only grandchild.
Community content is available under
CC-BY-SA
unless otherwise noted.