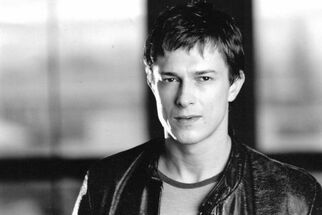 Peter Stebbings (born February 28, 1971) is a Canadian actor, director, producer, and screenwriter, perhaps best known for portraying Kevin Sharp in the drama series Madison, Paul Deeds in the series Traders, and for writing and directing Defendor. He portrayed Alvin Klein on the science fiction drama series The Listener.
Peter Stebbings holds an extensive acting career spanning over 20 years. A native of Vancouver, British Columbia, Canada, born on February 28, 1971, Peter's screen career began in 1989 after spending time cultivating his craft in theatre at age 12. He is perhaps best known to local audiences of his home country for his role in the television series Madison (1993), aired originally in the 1990s. Other notable Canadian productions include Traders (1996) and the post-apocalyptic Sci-Fi drama Jeremiah (2002). He played a sinister yet appealing werewolf neighbor in the horror feature Never Cry Werewolf (2008) starring opposite Nina Dobrev and Kevin Sorbo. He has made a substantial showing across numerous television series produced by Canada, including the crime/mystery drama Rabbit Fall (2007), Cra$h & Burn (2009), Murdoch Mysteries (2008) and the fantasy crime-drama The Listener (2009). Peter has also appeared in the Harrison Ford, Liam Neeson historical film drama-thriller K-19: The Widowmaker (2002) and in the mythological epic Immortals (2011) starring Henry Cavill. Peter has also endeavored in writing, contributing a screenplay for the film Defendor (2009) in which he also directed.
Community content is available under
CC-BY-SA
unless otherwise noted.