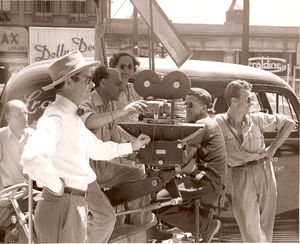 A
film crew
is a group of people, hired by a production company, for the purpose of producing a film or motion picture. The
crew
is distinguished from the
cast
as the
cast
are understood to be the actors who appear in front of the camera or provide voices for characters in the film. The
crew
is also separate from the
producers
as the
producers
are the ones who own a portion of either the film company or the film's intellectual property rights.
A film crew is divided into different departments, each of which specializes in a specific aspect of the production. Film crew positions have evolved over the years, spurred by technological change, but many traditional jobs date from the early 20th century and are common across jurisdictions and film-making cultures.
Motion picture projects have three discrete stages: development, production and distribution. Within the production stage there are also three clearly defined sequential phases — pre-production, principal photography and post-production — and many film crew positions are associated with only one or two of the phases. Distinctions are also made between above-the-line personnel (such as the director, the screenwriter and the producers) who begin their involvement during the project's development stage, and the below-the-line "technical" crew involved only with the production stage.
Community content is available under
CC-BY-SA
unless otherwise noted.