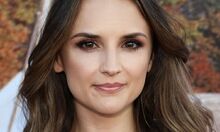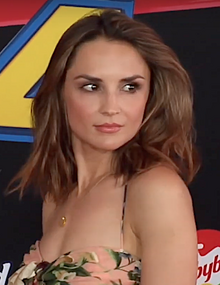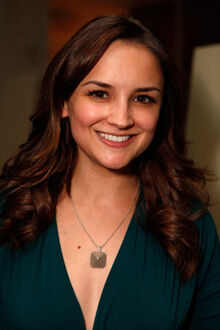 Rachael Leigh Cook (born October 4, 1979) is an American actress, model, voice artist, and producer. She has starred in the films She's All That (1999), Josie and the Pussycats (2001), and the television series Into the West and Perception. She is also the voice behind various characters in Robot Chicken and Tifa Lockhart in the Final Fantasy series, starting with the English version of the film Final Fantasy VII: Advent Children.
Minneapolis native Rachael Leigh Cook began her career as a model at the tender age of 10, gracing Milk-Bone(R) boxes and Target(R) ads nationwide in the USA. She also appeared in a now-famous (in the USA) anti-drug TV spot in which, armed with a frying pan, she bashed her way through a kitchen to show the disastrous effects of heroin. At 14, her modeling agency sent her to read for a short film (26 Summer Street (1996)) and changed the course of her young life--from that moment on, Cook was hooked on acting. When she reached L.A. later that year, Cook bypassed the wannabe stage and nailed her first audition (for the part of a budding entrepreneur in The Baby-Sitters Club (1995)). She returned to theaters three months later in the Jonathan Taylor Thomas vehicle Tom and Huck (1995), then filled her calendar with appearances in independent and made-for-TV movies. She divided her time between Minneapolis and Tinseltown, shuttling from school events to movie shoots with her mother in tow. Cook's starlet status crystallized in 1999, when she starred opposite Freddie Prinze Jr. in the Pygmalion retelling She's All That (1999). Her on-screen transformation from ugly duckling to ravishing beauty scored several teen-oriented awards and made Cook a hot commodity in Hollywood. She signed for a handful of plum follow-up roles, including a troubled adolescent in Sylvester Stallone's Get Carter (2000), a frontier gal in Texas Rangers (2001), and the caterwauling lead in the live-action version of Josie and the Pussycats (2001). Cook now lives primarily in Los Angeles, but she returns home frequently to visit with friends and family. Her father, Tom (a former stand-up comic), is a social worker in the public school system, and her younger brother, Ben, is an aspiring filmmaker.
Community content is available under
CC-BY-SA
unless otherwise noted.