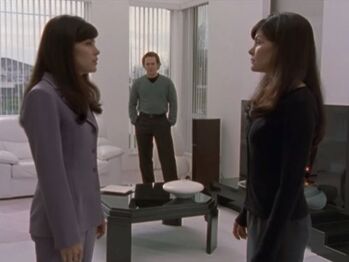 "Replica" is an episode of The Outer Limits television series. It first aired April 27, 2001. It is the seventh episode from the seventh season of The Outer Limits.
Contents
1 Introduction
2 Opening narration
3 Plot
4 Closing narration
5 Cast
Introduction
A biogeneticist (Peter Outerbridge) illegally clones his comatose wife (Sherilyn Fenn).
Opening narration
"God is said to have reached into the firmament and made mankind in his own image. But whose image will be mirrored when we gain the same awesome power?"
Plot
Due to an accident that leaves his wife in a coma, a scientist makes a clone of her when faced with the possibility that she msy never recover.
The clone demonstrates that she has all of the original's personality and memories. After a short time, the wife awakens from her coma. She is shocked to learn that she had been cloned, but plots with her husband to dispose of the clone. The couple and the clone begin a cat-and-mouse game. The clone declares that she wants to survive, and that she is truly in love with the biogeneticist. When the situation looks dire, the two women stop and have an idea.
In the final scene, the biogeneticist has been revealed to have cloned himself, providing his wife's clone with a suitable mate. The two couples now live together in peace.
Closing narration
"The desire to be an individual is one of humankind's deepest longings, surpassed only by the will to survive."
Cast
Sherilyn Fenn ... Nora Griffiths/Nora's Clone
Peter Outerbridge ... Zach Griffiths/Zach's Clone
Garwin Sanford ... Peter Chandler
Kwesi Ameyaw ... Dr. Adam Meares
Michele Bogdanow ... Nurse
Derek Peakman ... Dr. Pastore
John Treleaven ... Investor
Ginger Broatch ... Young Nora
(as Haili Page) Lindsay Jameson ... Nora's Mother
J.M. Landry ... Nora's Father