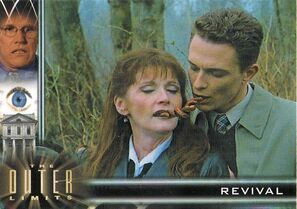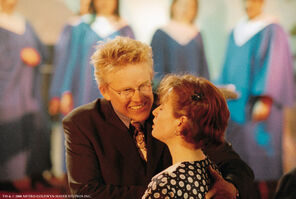 A tent revivalist finds faith as he battles an evil alien masquerading as a divine power.
Ezra Burnham (Gary Busey) and his daughter Sarah (Nicole Eggert) are old hands at the business of faith healing. Ezra, a preacher who lost his faith when his wife died, is the front man, the one who lays his hands on the deaf and lame. But Sarah is the key to the act, working backstage and communicating with Ezra through a tiny earphone about the plants she's scattered through the audience.
It's all going well until one day a strange young man in a wheelchair approaches Ezra near the end of a revival meeting. Luke (Peter Stebbings) is not a plant, but when Ezra lays his hands on him, he not only rises from his wheelchair, he begins to float six inches off the ground. After the meeting, Luke and his mother Serena (Margot Kidder) approach Ezra with a proposition. If Ezra will teach Luke the secret of the revival circuit, Luke will continue to work his mysterious magic at Ezra's side.
Cast
Gary Busey ... Ezra Burnham Peter Stebbings ... Luke Margot Kidder ... Serena Nicole Eggert ... Sarah Burnham Doug Abrahams ... Sheriff O'Brien Greg Rogers ... Reverend Samuel Garland Holly Elissa ... Cindy (as Holly Dignard) Ted Kozma ... Mangled Man Brenda McDonald ... Old Arthritic Woman Checo Tohomaso ... Choir Master Carrie Gibson ... Choir Singer Nicole Parris ... Choir Singer Kim Smith-Jensen ... Choir Singer Marilyan Clements ... Choir Singer Yvonne Clements ... Choir Singer
Community content is available under
CC-BY-SA
unless otherwise noted.