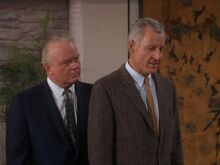 Richard Derr (June 15, 1917 – May 8, 1992) was an American actor who worked on stage, screen and television, performing in both starring and supporting roles.
Born June 15, 1918 in Norristown, Pennsylvania, second lead Richard Derr made his first film appearance at age 23 as one of many suspects in Charlie Chan in Rio (1941) after signing with 20th Century-Fox. A second Chan film role would come with Castle in the Desert (1942). With staid good looks, he failed to stand out among the war-era hopefuls. He appeared typically in WWII-themed "B" films such as Man at Large (1941), Commandos Strike at Dawn (1942) and Tonight We Raid Calais (1943). Following the war he played the "other man" opposite June Allyson and Van Johnson in the comedy The Bride Goes Wild (1948) and took a lead professional role in the sci-fi classic When Worlds Collide (1951). He moved into character work and spent the remainder of his career in atmospheric authoritarian roles on film and TV. He died in 1992 of pancreatic cancer.
Actor Richard Derr (15 June 1918 – 8 May 1992; age 73) made two appearances on Star Trek: The Original Series as two different flag officers.
Derr was the star of the 1951 science fiction classic When Worlds Collide, co-starring John Hoyt. His other films include Man at Large (1941, with Elisha Cook, Jr.), Castle in the Desert (1942), Joan of Arc (1948, with Jeff Corey), Three in the Attic (1968), The Drowning Pool (1975, with Andrew Robinson and Gail Strickland), American Gigolo (1980), and Firefox (1982, with Ward Costello, Ralph Maurer, and Tony Papenfuss).
Besides TOS, Derr has also appeared on such television series as Perry Mason (one episode with Leslie Parrish, another with Garry Walberg), The Outer Limits, Mannix (including an episode with Jill Ireland and Sabrina Scharf), Starsky and Hutch (starring David Soul), Project U.F.O. (in an episode with Malachi Throne), Taxi (starring Christopher Lloyd), Dallas (with Joanna Cassidy, Susan Howard, Leigh J. McCloskey, William Smithers and Morgan Woodward), and several episodes of Barnaby Jones (starring Lee Meriwether and Vince Howard and also guest-starring the likes of Whit Bissell, Joanne Linville, and Phillip Pine). He also appeared in the 1977 made-for-TV movie SST: Death Flight, along with John de Lancie, Robert Ito, and Brock Peters.
Derr retired from acting in 1983 and went on to become a real estate agent. His final on-screen appearance was an episode of the short-lived Automan, starring fellow TOS guest actor Robert Lansing. Derr died of pancreatic cancer in 1992 at the age of 73.
Community content is available under
CC-BY-SA
unless otherwise noted.