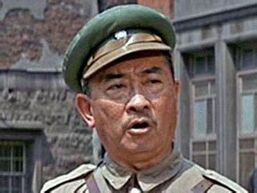 One of the most familiar Asian character actors in American films of the 1930s and 1940s, Richard Loo (1 October 1903 - 20 November 1983) was most often stereotyped as the Japanese enemy flier, spy or interrogator during the Second World War.
Chinese by ancestry and Hawaiian by birth, Loo spent his youth in Hawaii, then moved to California as a teenager. He attended the University of California and attempted a career in business. However, the stock market crash of 1929 and the subsequent economic depression forced him to start over.
He became involved with amateur, then professional, theater companies and in 1931 made his first film. Like most Asian actors in non-Asian countries, he played primarily small, stereotypical roles, though he rose quickly to familiarity, if not fame, in a number of fine films. His features led him to be a favorite movie villain, and the coming of World War II gave him greater prominence in roles as vicious Japanese soldiers in successful pictures such as The Purple Heart (1944) and God Is My Co-Pilot (1945). He had a rare heroic role as a weary Japanese-American soldier in the Korean War drama The Steel Helmet (1951), but spent far too much of his career in later years performing stock roles. His wife, Bessie Loo, was a well-known Hollywood agent.
Community content is available under
CC-BY-SA
unless otherwise noted.