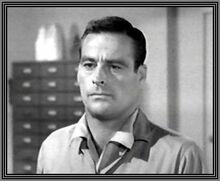 Robert Laman Webber (October 14, 1924 – May 19, 1989) was an American actor.
He appeared in dozens of films and television series, roles that included Juror No. 12 in the classic 1957 film 12 Angry Men.
Webber was born in Santa Ana, California, the son of Alice and Robert Webber, who was a merchant seaman. Webber graduated from Oakland Technical High School, and served in the United States Marine Corps during World War II, serving on Guam and Okinawa.
Webber had a 40-year career as a character actor, during which he appeared as Juror No. 12 in 12 Angry Men (1957), as Dudley Moore's gay lyricist in 10 (1979) and the father of Cybill Shepherd's character in the hit series Moonlighting. Other notable turns were in the films The Sandpiper, in which he played a supporting role as Elizabeth Taylor's character's former lover, opposite Richard Burton; The Nun and the Sergeant, in which he played the lead; The Dirty Dozen, where he played a general who disliked the character portrayed by Lee Marvin; a sadistic lowlife encountered by Paul Newman in the anti-hero detective drama Harper; a hitman in Sam Peckinpah's Bring Me the Head of Alfredo Garcia; and a killer in the Dean Martin spy spoof, The Silencers. Other notable films in which Webber appeared include The Great White Hope (1970), Midway (1976), Revenge of the Pink Panther (1978), Private Benjamin (1980), S.O.B. (1981), and Wild Geese II (1985). Several of the films were directed by Blake Edwards.
On television Webber appeared in many of the popular dramas of the time, including four episodes of The Rockford Files and three of Cannon.
Webber was married to actress and model Miranda "Sammy" Jones on October 1, 1953, and was divorced in July 1958. He married his second wife, Del Mertens, on April 23, 1972.
He died from Amyotrophic Lateral Sclerosis (also known as Lou Gehrig's disease) at age 64 in Malibu, California.
Community content is available under
CC-BY-SA
unless otherwise noted.