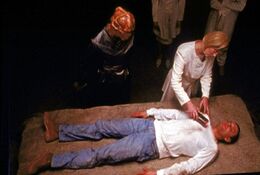 Natalie (Lisa Zane) is a driven researcher, faithfully though dutifully supported by her husband who is the first to touch the odd, amber-like cocoon mass found in an anachronistic burial chamber. The contact has two effects, beginning the reawakening of the dormant mass, and imprinting Curtis (David Cubitt) with the last memories of a long suspended alien who was attacked by primitive men. Each further contact speeds the regeneration at the temporary expense of Curtis' energy. Emmet (Robert Picardo) is substantially more pragmatic and chooses the commercial rewards made possible by the longevity potential evidenced by the now reforming alien (Doug Jones). Convincing the remaining two members of the team, he stages a coup which is eventually thwarted by the alien and a panic-induced cave in. The severely wounded husband and wife, finally reconciled through their shared adversity are trapped and in dire straits until the alien coats them in his preservative, allowing them to be revived and made physically whole roughly 1,000 years in their future, in a world which their wisdom allowed to become a cooperative human-alien world.
Cast
Lisa Zane ... Natalie Grainger David Cubitt ... Curtis Grainger Peter Wilds ... Dean Eli Gabay ... Faber Robert Picardo ... Emmet Harley Doug Jones ... Alien / Alien Doctor Patricia Dahlquist ... Doctor
Community content is available under
CC-BY-SA
unless otherwise noted.