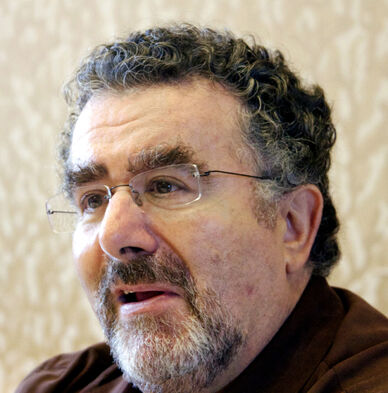 Saul Rubinek (born July 2, 1948) is a German-born Canadian character actor, director, playwright, and producer of television, theatre, and film. He has had roles in notable films including Against All Odds (1984), Wall Street (1987), The Bonfire of the Vanities (1990), True Romance (1993), and Unforgiven (1992).
Rubinek is also known for his role as Artie Nielsen in the Syfy series Warehouse 13 and Louis B. Mayer in The Last Tycoon, and has had recurring roles on Frasier, A Nero Wolfe Mystery, and Leverage. He is a five-time Genie Award nominee, winning Best Supporting Actor for Ticket to Heaven (1981), and a two-time Gemini Award nominee. His first play, Terrible Advice premiered in September 2011.
Rubinek was born in Föhrenwald, Wolfratshausen, Germany, the son of Polish Jews, Frania and Israel Rubinek, who was a factory worker, theatre company manager, Yiddish Theatre actor, and Talmudic scholar. Rubinek's parents were hidden by Polish farmers for over two years during World War II and moved to Canada in 1948.
Saul Rubinek was born in a refugee camp in Germany, where his father ran a Yiddish Repertory Theatre company. Saul started his professional career as a child actor in theater and radio in Canada. By the time he was 20, he was a member of the Stratford Shakespearean Festival company in Stratford, Ontario and, later, was a co-founder, actor and director of Theatre Le Hibou, Theatre Passe-Muraille and Toronto Free Theatre. He got his early training in film and television as an actor for the Canadian Broadcasting Corporation. Saul started working in the United States as an actor at the Public Theater in New York. Rubinek's work on U.S. and Canadian television, film and theater spans four decades. In 1997, Rubinek directed his first feature for Lionsgate, based on the play he previously directed, Jerry and Tom (1998). He also was producer on the film in partnership with his wife, Elinor Reid. The film was an official entry in competition at Sundance in 1998. He also directed the features _Club Land (2001) (TV)_ and _Bleacher Bums (2001) (TV)_ for Showtime/Paramount. Rubinek directed, and his wife and partner Elinor Reid produced the award-winning indie film Cruel But Necessary (2005). Penguin Books published (1987) Rubinek's non-fiction book, "So Many Miracles", an account of his parents' survival growing up in Poland during World War II. He wrote and produced an award-winning documentary (1988) of the same title, So Many Miracles (1987), for CBC and PBS which chronicles his parents' reunion with the people who saved their lives during the Holocaust. The DVD of the documentary is available from The National Center for Jewish Film at Brandeis University. Rubinek wrote the play "Terrible Advice", which was produced in 2011 in London by The Chocolate Factory, starring _Scott Bakula_, _Andy Nyman_, _Caroline Quentin_, _Sharon Horgan_, and directed by _Frank Oz_.
Community content is available under
CC-BY-SA
unless otherwise noted.