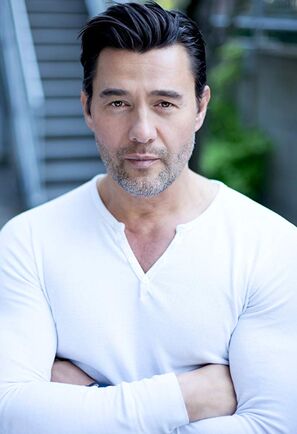 Steve Bacic (/ˈbeɪsɪk/ BAY-sik, born March 13, 1965) is a Canadian actor. He is known for playing the characters Gaheris and Telemachus Rhade on the Sci-Fi series Gene Roddenberry's Andromeda. After guest starring in seasons 1-3 as both characters, he joined the cast early in season four as Telemachus. In total, he was in 44 of the 110 Andromeda episodes. Beginning in 2013, he co-starred as "Jason" in Hallmark Movies & Mysteries channel Garage Sale Mysteries series of TV films.
A leading man who is just as comfortable playing scary villains or comic sidekicks, Steve Bacic has gone from strength to strength culminating into a half-decade of non-stop work. Shortly after he moved from his home town of Windsor, Ontario to Vancouver, British Columbia, he landed a guest-starring role on the TV series 21 Jump Street (1987) -- the biggest part ever given a Canadian on the show at that time. Multiple episodes of Street Justice (1991), M.A.N.T.I.S. (1994), The Commish (1991), Highlander (1992), Viper (1994) and The Marshal (1995) followed, along with important parts on The Outer Limits (1995), The X-Files (1993), Millennium (1996), Andromeda (2000) and a recurring role on the short-lived but critically lauded Profit (1996). But it's in longer-form efforts such as She Stood Alone: The Tailhook Scandal (1995), Another Stakeout (1993) and Hardball (1997) (a.k.a. Bounty Hunters II) that Bacic has really been able to spread his wings. Admittedly an "instinct" player, he has been happy to learn the ropes from international stars like Gerald McRaney, Rosie O'Donnell and veteran Tony Curtis. Bacic regards one of his most unique professional experiences to-date as being the time he looked around the room while filming Another Stakeout (1993) and realized that he was alone with Rosie O'Donnell, Richard Dreyfuss, Emilio Estevez, the director (John Badham), the writer, and the producer.
Community content is available under
CC-BY-SA
unless otherwise noted.