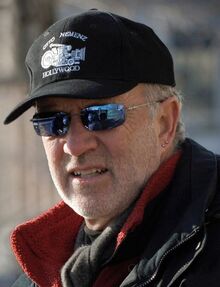 Stuart Thomas Gillard (born April 28, 1950) is a Canadian film and television director. He is best known for directing the films Teenage Mutant Ninja Turtles III (1993) and RocketMan (1997). He also wrote and directed the romance film Paradise in 1982, his directing debut.
As a television director, Gillard's credits include Bordertown, The Outer Limits, Charmed, One Tree Hill and 90210. He has also directed numerous television films, many for ABC Family and Disney Channel such as Girl vs. Monster and Twitches.
As an actor, Gillard won the Canadian Film Award for Best Actor in 1975 for his performance as a journalist in the film Why Rock the Boat?, and appeared in the 1970s sitcom Excuse My French.
A multi-award-winning director, writer, producer and actor, Stuart Gillard is a three time nominee for the prestigious DGA (Directors Guild of America) Award, winning for Going to the Mat, a movie he directed for the Walt Disney Company.   Mr. Gillard is a man of many talents whose career spans three decades.  After graduating from the University of Alberta, Gillard was one of twelve candidates selected to study acting at the National Theatre School in Montreal, Canada.  He then was invited to Seattle, Washington where he was a founding member of the University of Washington Professional Acting Troupe.  He returned to Canada where he won the country's top acting awards.
REFERENCES
Community content is available under
CC-BY-SA
unless otherwise noted.