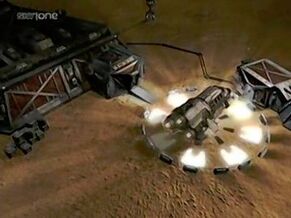 Introduction
Deep space. A small planetoid. The site of an intergalactic summit between two warring worlds. Diplomats from both Earth and Dregocia, a distant planet, are dispatched to the neutral ground to work out a peace accord. We quickly come to learn that Dregocians are human as well, but a genetically-engineered race, kept on Dregocia to mine Trion ore, shipping it back to Earth to run its power plants. Now, not unlike England and its colonies, Dregoicians demand their freedom and autonomy from Earth. But when a shuttle carrying the Dregocian delegation to the summit site malfunctions and crashes, apparently due to sabotage, things quickly deteriorate. The delegation from Earth, already at the summit facility, watch in horror as the crash of the shuttle sparks an exchange that results in the mutual destruction of both the Earth and Dregocian flagships, orbiting the planetoid. This sets in motion a doomsday process, that if allowed to proceed will result in the extinction of humans, Earth-born and Dregocian alike. Kate Woods (Marcia Cross), the Earth's senior surviving diplomatic representative, can save the world, but only if she can re-establish contact with Earth. In order to do that, she must overcome some serious obstacles. She must resist the hawkish instincts of her military adviser, Col. Wallis Thurman (John Spencer) and her own hatred of the race that killed her husband. And she must deal with a determined Dregg rival, Prosser (Michael Ironside), who survived the crash and is willing to let his people perish rather than continue to be ruled by Earth. As the clock ticks, Kate and Prosser negotiate to the brink of annihilation, hoping to establish enough trust to save both civilizations. But can a trust so fragile survive the efforts of those on both sides who would rather see war continue than relations improve? And are Kate and the others willing to pay the price that might be required to save the world?
Cast
Marcia Cross ... Katherine Woods Michael Ironside ... Ambassador Prosser Andrew Airlie ... Jonathan Morris Jonathan Walker ... Brent Secor Kevin Conway ... Mr. Portis John Spencer ... Col. Wallis Thurman Eric Schneider ... High Commander Reese Dave Adams ... Desmond Shiff Campbell Lane ... Noel Bachman Darryl Scheelar ... Gorum Matthew Prior ... Todd Woods
Community content is available under
CC-BY-SA
unless otherwise noted.