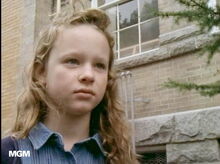 "The Choice" is an episode of The Outer Limits television show. It was first broadcast on 28 April 1995 during the first season.
Contents
1 Introduction
2 Opening narration
3 Plot
4 Closing narration
Introduction
A young girl with strange, supernatural powers is shunned by her friends, but welcomed by a nanny with similar gifts, while her parents must decide what's ultimately best for their child.
Opening narration
| | | |
| --- | --- | --- |
| " | It is the differences between people that cause conflicts. Differences in religion, in race, in beliefs. What wars would be fought if the differences grew between two intelligent species; humans... and those who might ultimately replace us. | " |
Plot
A young girl, Aggie Travers (Thora Birch), is an outcast at her elementary school, and mysterious things happen to people when she doesn't get along with them. Since it appears that she is responsible for these strange things, she is suspended from school. Her parents are at their wits end, so they decide to look for a nanny for their troubled child. Karen Ross (Megan Follows), their first candidate, seems perfect; she bonds with Aggie from the start, and seems to understand her special needs. Karen helps Aggie to hone her powers, while forming a strong bond between the two. Meanwhile, Terry Walsh (Matthew Walker), from a government organisation known as The Trackers, is hunting down young girls like Aggie for the purpose of scientific experiments under the guise of para-FBI agents.
Closing narration
" The wars of evolution are fought over generations. But sometimes only the fittest survive battles which last the briefest moments. A hundred years from now, a new race may look back and say, 'This little girl's stand was a turning point.'
"
Cast
Thora Birch ... Aggie Travers Megan Follows ... Karen Ross (as Megan Porter Follows) Page Fletcher ... Joe Travers Sandra Nelson ... Leslie Travers Matthew Walker ... Terry Walsh Frances Sternhagen ... Jean Anderson P. Lynn Johnson ... Mrs. Hagen Andrew Johnston ... Mr. Hagen Rebecca Toolan ... Mrs. Whelan Diana Stevan ... Ruth Tracy Waterhouse ... Debra Codie Lucas Wilbee ... Clark Howell (as Codie Wilbee)
Community content is available under
CC-BY-SA
unless otherwise noted.