Jurassic World: Dominion Dominates Fandom Wikis - The Loop
Play Sound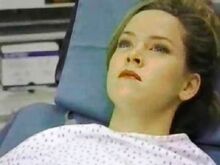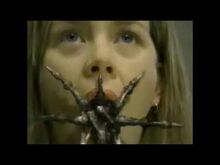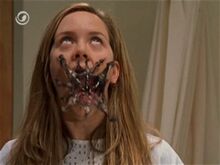 "The Surrogate" is an episode of The Outer Limits television show. It first aired during the seventh (and final) season of the revival show.
Contents
1 Synopsis
2 Opening narration
3 Plot
4 Closing narration
Synopsis
A surrogate mother finds that her pregnancy is changing her into an alien.
Opening narration
"The beauty of motherhood and the miracle of new life connects us to our humanity, or does it?"
Plot
Claire Linkwood is the perfect candidate for the surrogate birth mother program at the Deanston Clinic. She's young, healthy, driven by the need for money, and without family attachments. In Dr. Deanston's treatment room, Claire is successfully implanted with an embryo and instructed to join the clinic's surrogacy support group, eat well, and ingest specially formulated vitamin pills daily.
Then the bad dreams start – vivid nightmares of her and the fetus in terrible distress. This is not uncommon according to the doctor and the other women in her support group who have all experienced the same thing. But these assurances are undermined by her boyfriend, Ben, and Special Agent Grant of the FBI who has had her and other Deanston surrogacy birth mothers under surveillance. He warns her that all the babies born through his program have disappeared as if they never existed.
Claire refuses to believe his conspiracy theories until Ben convinces her to see another doctor, who performs an amniocentesis which reveals green fluid in Claire's womb. Claire then discovers that Ben was being manipulated by Agent Grant, and she flees to the home of the future parents of her child. Before she can process the results of the amniocentesis, Claire goes into labour and is unwillingly rushed to the Deanston clinic.
Agent Grant arrives at the clinic in an attempt to rescue Claire but finds that she has already given birth. Claire explains that the embryos the clinic implants in the surrogate mothers are parasitic aliens which consume the human host from the inside out. The aliens cannot reproduce on their own, and rely on surrogate mothers like Claire for appropriate sites to gestate. Dr. Deanston, the other clinic employees, and all the surrogate mothers who have already given birth are aliens wearing the skin of their hosts. Agent Grant is killed by the aliens who have inhabited the bodies of Claire and one of the other surrogate mothers.
Closing narration
"The birth of a new life can be awesome and miraculous, unless it is at the expense of the human race itself."
Cast
... Claire Linkwood
Erich Anderson
... Dr. Deanston
... Fern
Cheryl Wilson
... Nurse Rebecca
Ian Robison
... Craig
Elizabeth McLaughlin
... Donna
William MacDonald ... FBI Special Agent Grant
G. Patrick Currie ... Ben
Ronin Wong
... Dr. Chan (as Ronin)
Enid-Raye Adams
... Emily
Simone Bailly
... Administrator
Samantha McKenna
... Debbie