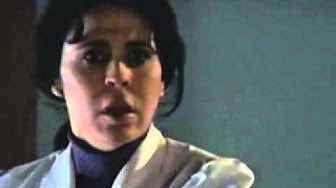 "The Vaccine" is an episode of The Outer Limits television show. It first aired on 3 April 1998, and was the eleventh episode of the fourth season.
Contents
1 Introduction
2 Opening narration
3 Plot
4 Closing narration
Introduction
Most of the world is dead or dying from a worldwide, artificially engineered virus. Thirteen survivors are supplied with a vaccine, but there is only enough for three people.
Opening narration
"Along with futures we dare not imagine, come choices we dare not make."
Plot
A genetically engineered virus, developed and released by a doomsday cult, has wiped out almost all human life on Earth. Twelve hospital patients, accompanied by the one remaining staff member, nurse Marie Alexander (Maria Conchita Alonso), are living on borrowed time in the hospital, with food and fuel for the generator running dangerously low.
A soldier arrives with a newly developed vaccine, but Marie is horrified to learn that there is only enough for three people. Along with this, the vaccine requires three days to fully develop before it can be injected into any humans. The vaccine comes with strict instructions to prioritize its use only for young healthy people of reproductive age, in order to maximize the survival of the human race.
Marie only reveals to the group that there is a vaccine, not the amount, a fact she only reveals to her closest companion in the group, terminally ill cancer patient Bernard Katz.
When two members of the group discover the truth, they arm themselves with the only gun and force Marie to administer the vaccine to them, which she agrees to only if the third recipient is the child Harry. While she is preparing the vaccine, she turns her back only to see the third dose of vaccine being administered to one of the others, dooming young Harry to the virus. The three vaccine recipients are the three young relatively fit members of the group capable of having children. Immediately, the three die of anaphylactic shock, leading Marie to conclude that the group survived not due to the hospital's sterile atmosphere but because they were immune, and after three months of confinement the group emerges from the hospital to face the new world. Minus any people of optimal reproductive age.
Closing narration
"Though Survival of the fittest is the cornerstone of evolution, perhaps, the meek shall inherit the earth after all..."
Cast
Maria Conchita Alonso ... Marie Alexander Lane Gates ... Harry Andrews Brent David Fraser ... Graham Biski Gugushe ... James Eric Keenleyside ... Major Ford Jay Brazeau ... Bernard Katz Megan Leitch ... Barb Joy Coghill ... Jean Jason Gaffney ... Kirk Laurie Murdoch ... Lawrence Michael Buie ... Private John Stanhope Joanna Piros ... News Anchor Claire Riley ... Dr. Egan
Community content is available under
CC-BY-SA
unless otherwise noted.