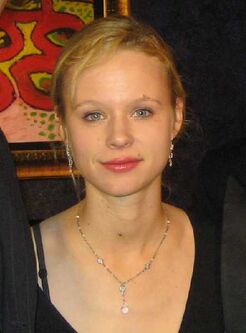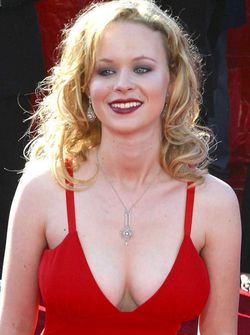 Thora Birch (born March 11, 1982) is an American actress and producer. She made her film debut in Purple People Eater (1988), for which she won a Young Artist Award for "Best Young Actress Under Nine Years of Age", and rose to prominence as a child star with appearances in films such as All I Want for Christmas (1991), Patriot Games (1992), Hocus Pocus (1993), Monkey Trouble (1994), Now and Then (1995), and Alaska (1996).
Her breakthrough role came in 1999 when she played Jane Burnham in the highly acclaimed film American Beauty, for which she earned a BAFTA nomination for Best Supporting Actress. She then starred as Enid in the cult hit Ghost World (2001), earning a nomination for the Golden Globe for Best Actress. In 2003, she received an Emmy Award nomination for playing the title role in Homeless to Harvard: The Liz Murray Story. Her other films include Dungeons & Dragons (2000), The Hole (2001), Silver City (2004), Dark Corners (2006), Winter of Frozen Dreams (2009), and Petunia (2012).
After taking a break from acting, Birch resumed her career in 2016 and has since starred in several independent films. Birch currently stars as Gamma on season 10 of The Walking Dead.
"Thora Birch is a famous child actress that is somewhat memorable from 1980s commercials. She is known for roles as Child #1, Girl #3, and untitled characters in television shows, commercials, and movies. Now that she is all grown up, she occasionally gets to audition for roles for B movies. Thora was born two a pair of pornographic actors from Los Angeles. Thankfully, she was not conceived during a live performance, and they are sticking to that story. You may learn more about their career using your preferred video streaming website.Since Thora wanted to become a "TV commercial actress" just like her mother, her parents had submitted her portfolio to various agencies. After several commercial spots for top fattening American food brands, she played an award winning role in Purple People Eater."
-Heckler Spray
For some people, oatmeal starts the day off right - for Thora Birch, it launched a healthy career in front of the camera. It's hard to believe that the actress, who slunk into stardom with her turn as the disillusioned daughter in American Beauty (1999), is even related to the apple-cheeked blonde who once gazed up at Quaker Oats (R) spokesman Wilford Brimley and said, "Mmm-hmm. Yeah, grandpa", but Birch still remembers the professional advice Brimley whispered in her ear: maintain eye contact and *really* listen. Since then, she's had ample opportunity to study some of Hollywood's top talents at work - in addition to her American Beauty (1999) scenes with Kevin Spacey and Annette Bening, she's acted alongside Harrison Ford, Harvey Keitel and Jeremy Irons. Named after Thor, the Norse god of thunder, Thora was born in Los Angeles to Jack Birch and Carol Connors Birch (they kept up the tempestuous theme by naming her younger brother Bolt Birch). By age 4, she was a regular at commercial auditions and, by age 6, she'd landed a spot on the short-lived daycare sitcom Day by Day (1988). Her film career got off to an auspicious start that same year, when she won a Young Artist Award for her debut opposite Neil Patrick Harris in the children's fantasy flick Purple People Eater (1988). After a short break, she picked up a role in another fleeting sitcom, Parenthood (1990) (based on the movie of the same name). By age 9, Birch had her life pretty much figured out - she told the L.A. Times that she planned to become a director by 24, then spend a year ice skating, then spend a year as a policewoman, and, finally, become a singer. She picked up her last name (early appearances credited her as just "Thora") and returned to the big screen as Elijah Wood's tomboy friend in Paradise (1991). She then scored a high-profile supporting role as Harrison Ford's daughter in Patriot Games (1992), which she reprised in Clear and Present Danger (1994). In between, she kept busy with family films Hocus Pocus (1993) and Monkey Trouble (1994). In 1995, Birch graduated into adolescent territory with her turn as a younger Melanie Griffith in Now and Then (1995). She followed that up with a top-billed role in the snowy adventure Alaska (1996), then took a three-year hiatus from acting. She resurfaced in 1999, first in the made-for-TV Night Ride Home (1999) and then, more visibly, in American Beauty (1999). Birch had heard about "Beauty" through the industry grapevine, and she immediately set her sights on the part of "Jane Burnham". As it turned out, she was the first to audition for director Sam Mendes; while he saw dozens of other actresses for the role, none delivered a more convincing "Jane". Still reeling from her sudden celebrity status, Birch plucked a handful of diverse projects from the deluge of post-"Beauty" scripts. Seeking an even edgier adolescent role, she appeared as a punk-rocker in the indie film The Smokers (2000), then dropped the tough-girl pose to play the gentle "Empress Savina" in the live-action adaptation of Dungeons & Dragons (2000). She also signed up to play a teen hipster caught up in a post-high school identity crisis in Ghost World (2001) (based on the graphic novel), and an English schoolgirl in the thriller The Hole (2001). Style-conscious and sophisticated beyond her years, Birch lives on her family's East L.A. ranch (where she recently finished high school through a computer-based correspondence course). She still hopes to try her hand at directing someday, but, for now, she's content to continue blossoming in front of the camera.
Community content is available under
CC-BY-SA
unless otherwise noted.