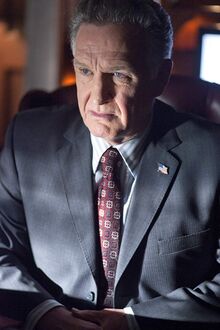 Tom Butler (born 1951) is a Canadian actor who has starred in movies and on television series and in many television films.
He best known for his television role on the science fiction series Sliders as Michael Mallory, the father of Quinn Mallory in the pilot episode, and reprised his role in the season 2 episode Gillian of the Spirits. Butler appeared in Hostage Rescue Team (TV movie, 2001) as Special Agent David Nelson.
Butler has appeared in a number of films, including Renegades (1989), Ernest Rides Again (1993), Freddy vs. Jason (2003) and Everything Gone Green (2006).
Butler appeared on such shows as Highlander: The Series, Sliders, The Commish, The Outer Limits, Stargate SG-1, Smallville, Check It Out!, The Secret Circle, The Killing, and as a recurring character on Gracepoint. In 2016, he appeared in Autumn in the Vineyard for the Hallmark Channel.
Community content is available under
CC-BY-SA
unless otherwise noted.